This article was originally published on
24/7Mirror
Do you think your neighborhood is safe? Unfortunately, there are over 2.5 million break-ins every year in the US alone, which means a break-in occurs every 26 seconds. Burglars most probably laugh out loud at the common 'one light on' trick, but there are still many ways you can outsmart them. When someone breaks into your home, it not only hits you financially but psychologically as well. Here, we've put together a list of handy tips shared by ex-burglars that will keep you and your loved ones safe. You won't believe how you've overlooked some of these things until now!
A "Beware Of A Dog" Sign Is A Must
There's one thing that burglars hate, and that's guard dogs. Even if you don't own a dog, it won't hurt if you put up this sign to throw off any potential robbers.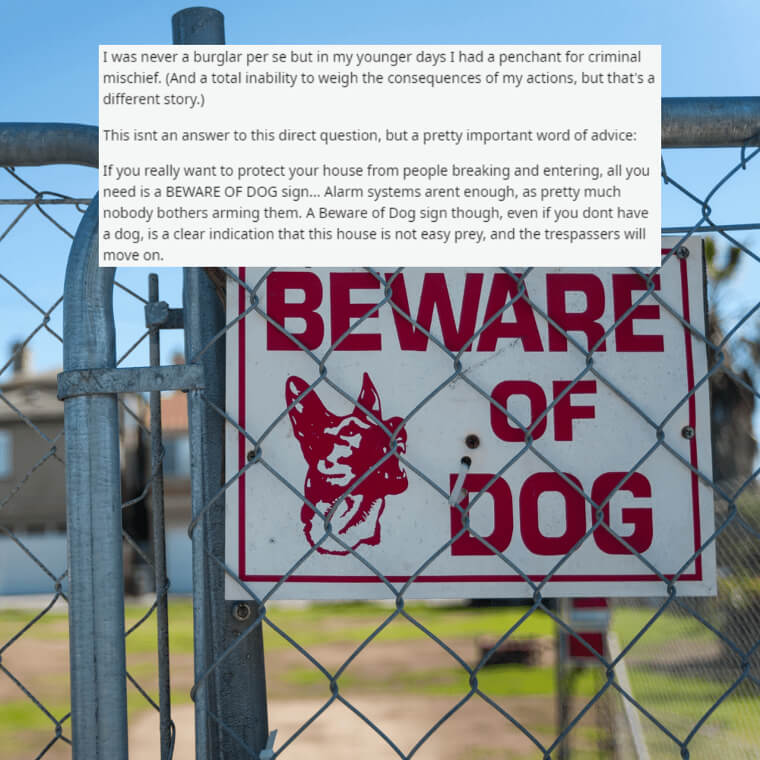 There are many potential guard dog options, like Rottweilers, German shepherds, or the Cane Corso. Not only will you get extra protection for your home, but you will also gain a new best friend.
Don't Go For Obvious Hiding Spots
Most people hide their valuable things in obvious places like a cupboard, a visible bookshelf, or an old suitcase. However, hiding your valuables in plain sight is not always the best approach.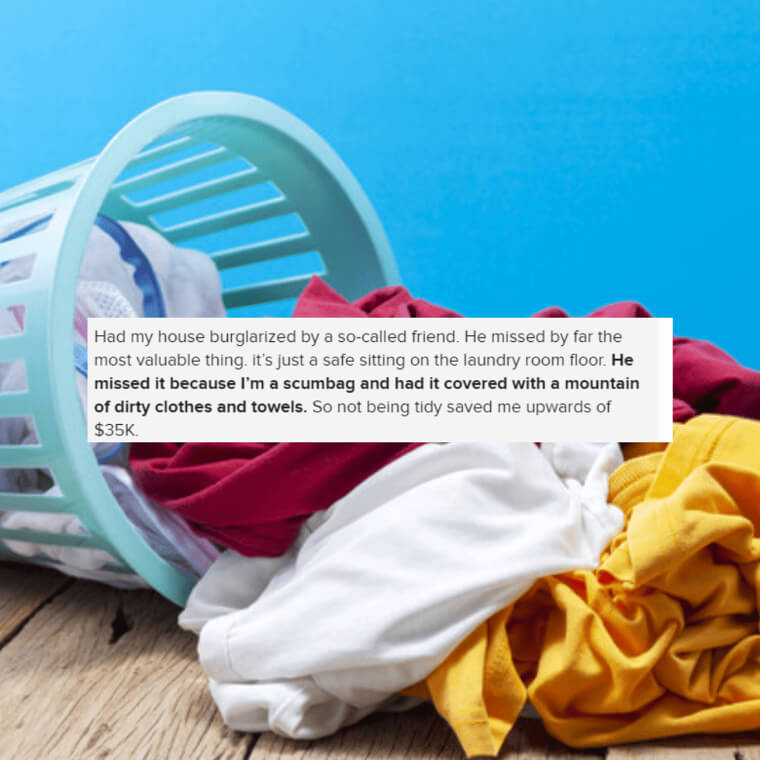 Take this next story for example. This person almost had tens of thousands of dollars stolen from them, but hiding them in a less-than-obvious location ended up saving the day. Creativity is key!
Don't Tell Everyone About Your Upcoming Trips
Going on vacation is a necessity to some. However, it would definitely help keep your valuables secure if you refrained from announcing your trip plans on social media and making them public knowledge.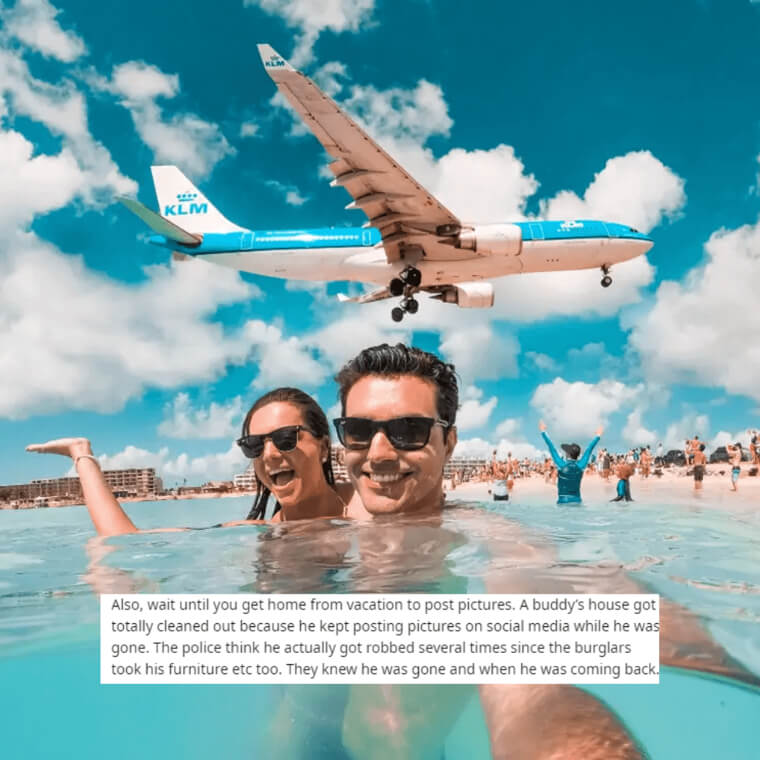 Keep information about your upcoming trips limited to a few important people in your life. If you are not careful, you will be making the job easier for burglars.
Always Verify Identities Before Letting Someone Enter Your Home
Although this tip doesn't come from a burglar, it makes total sense because a lot of people never ask any questions before letting someone in their home.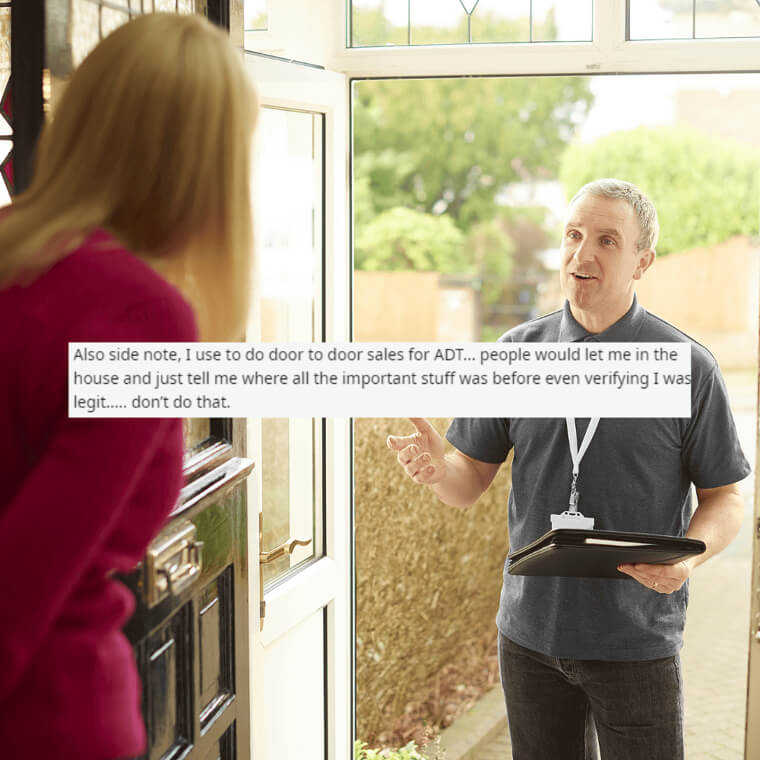 The Reddit user worked as a door-to-door salesperson and found that people are too busy or lazy to ask for identity or credentials before allowing anyone into their home. You never know, they might be burglars.
Outsmart Burglars
This is a unique tip that makes a lot of sense. You can keep a burglar out with a pretty clever plan. Many homeowners hide the key under the doormat or a stone. It has become common, and that is what burglars know as well.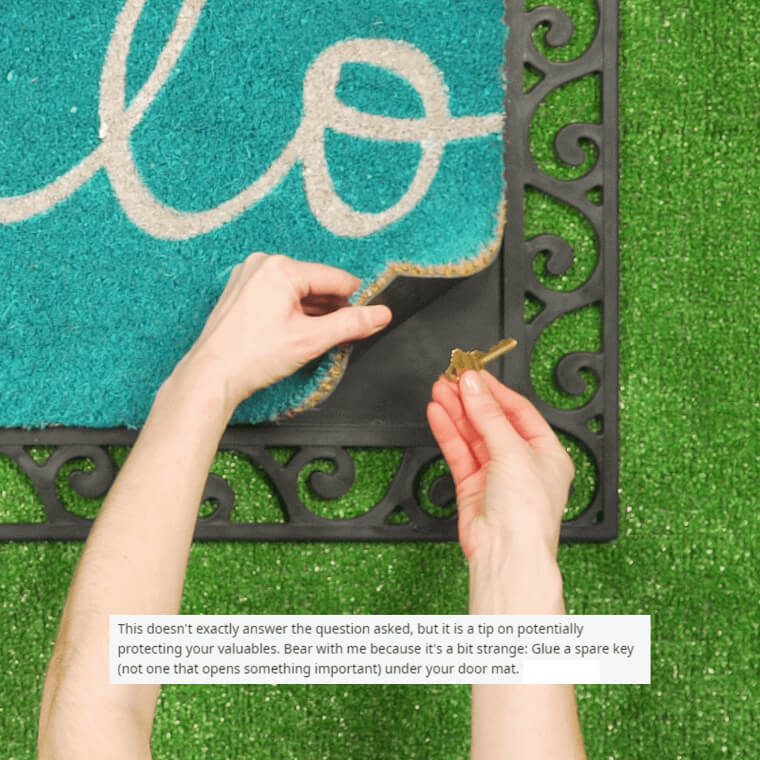 This person experimented with it and found that some people tried to grab the fake key and immediately ran off after realizing it was a trick.
Don't Make It Easier For Burglars, Please
You don't want to make the burglar say, "Wow, that was easy." Make sure your car is not readily available to strangers. If you are not careful, you might end up with your vehicle being burglarized or stolen.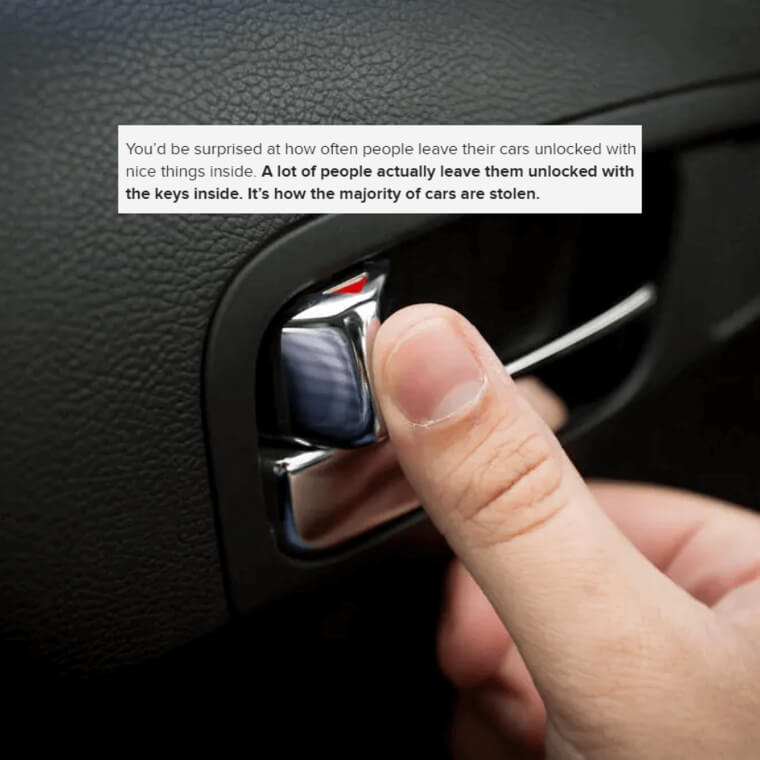 You may think that no one leaves their car keys behind. However, the truth is that a staggering number of people leave their cars unlocked.
Keep The Keys Away From The Front Door
Most homes keep the keys organized right by the front door. It may look convenient, but you're actually making it far easier for burglars to grab the keys and run off with your car.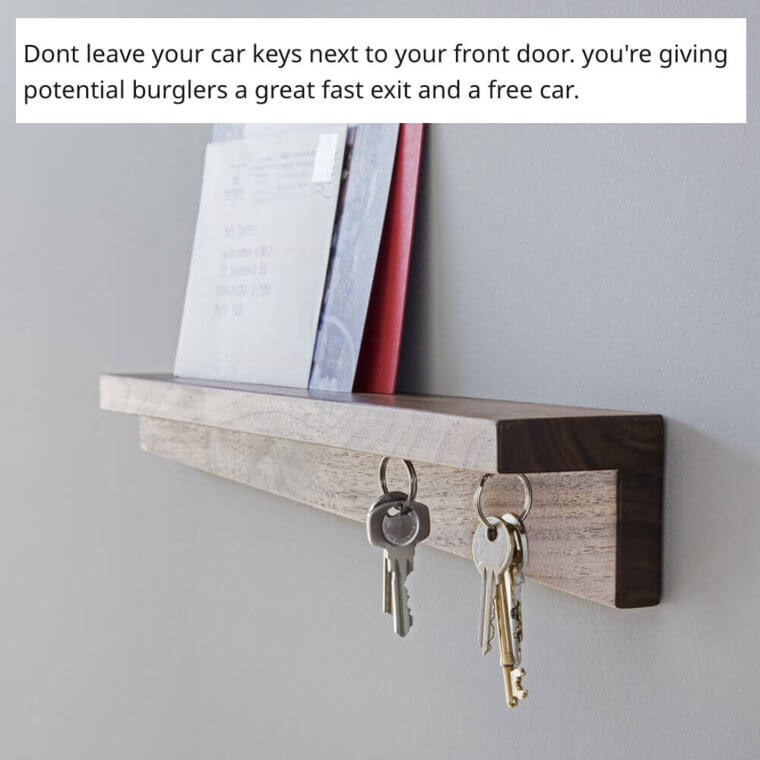 To avoid it from happening, it would be best to leave your everyday keys next to the refrigerator.
Don't Do The Obvious
We understand that having a spare key is necessary as you might lose or forget the original one. However, it would be best if you never keep spare keys under a doormat, flowerpot, top of the doorframe, or under a fake rock.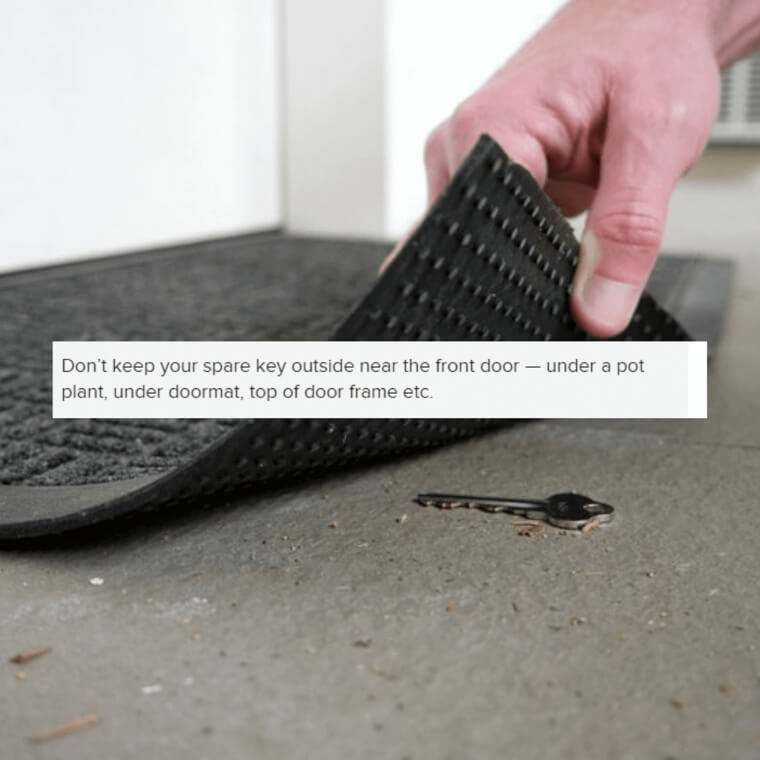 It is because too many people put spare keys in these obvious places, hence making it easier for burglars to find them. Be creative and think outside the box.
Never Leave Valuables In Your Car
Leaving valuables in the car is like challenging or inviting someone to come and take them. Why increase the risk of burglary by leaving something valuable on display in full view?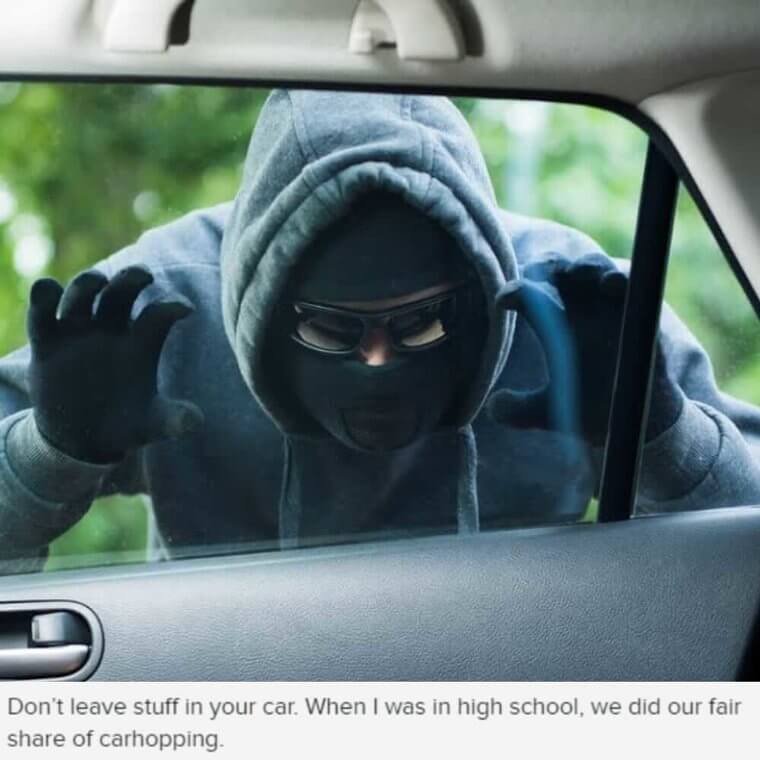 It would be best to take your phone, laptop, wallet, and cards with you rather than leave them behind.
Always Lock The Windows
Most of us lock the doors before leaving the house or going to bed. However, a surprising number of burglary incidents happen due to people forgetting to close the windows.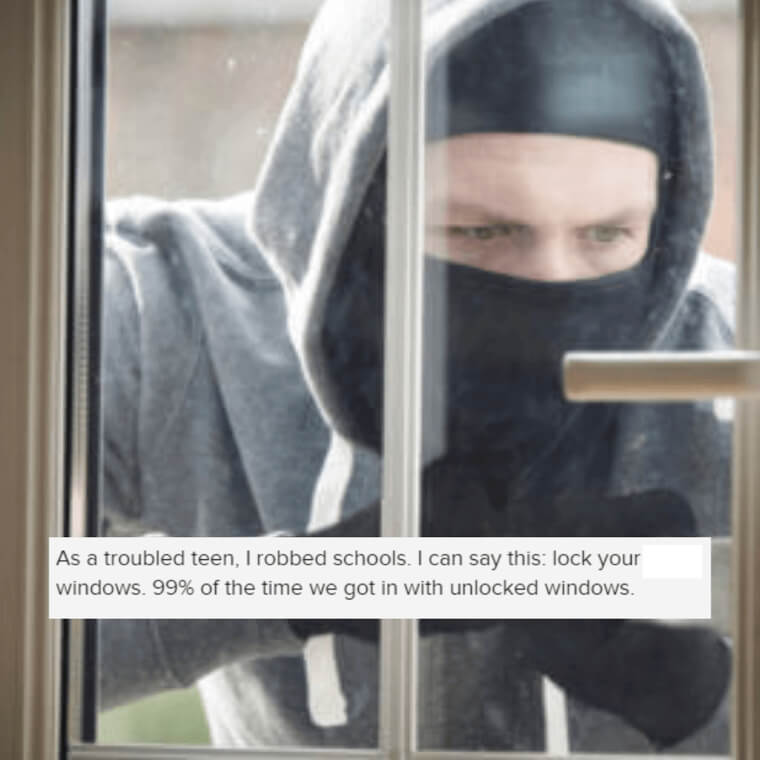 For maximum security of your home, always keep the windows locked. This person sure took a lot of advantage of unlocked windows as a teenager. So, there's a lesson for you to learn.
Never Store Jewelry In Closet
A burglar doesn't have enough time to check every corner of the house. So, they usually look at the hotspots such as the closet. As one burglar shared a tip, closets are like a gold mine for jewelry.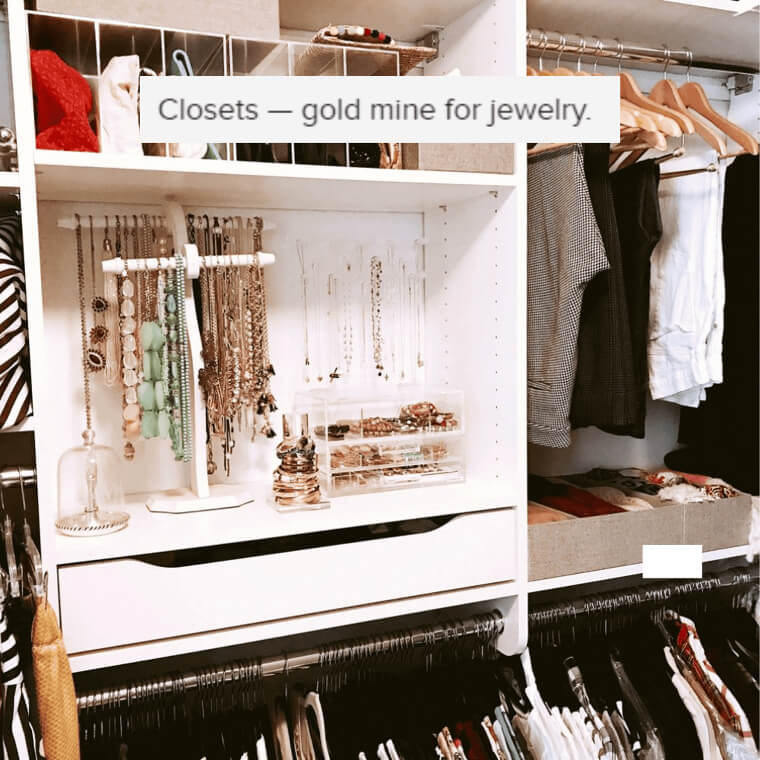 Although you may not prevent a burglary, you can still reduce the risk of losing something valuable. So, it would be best to keep your valuables in less obvious places.
Never Leave The Garage Open
This ex-burglar shared that some people leave the garage door open overnight, and we are thinking why are people so lazy and careless. Well, it is not entirely wrong at all because people do leave the garage door wide open all the time.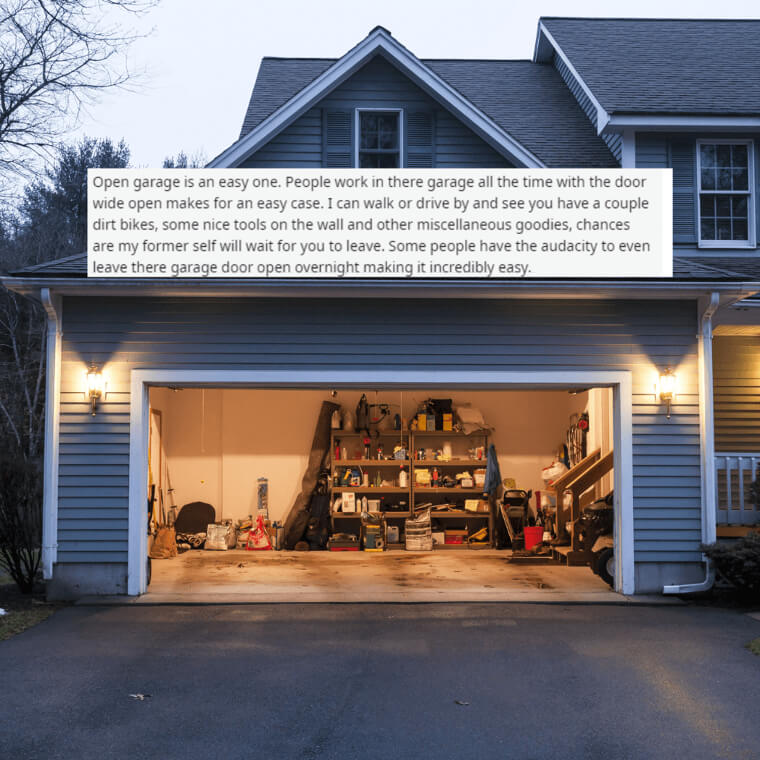 If this tip from an ex-burglar doesn't convince anyone, they might as well put all their valuables outside the front door.
Maids Know It All
This person shared a handy tip for those people who hire house cleaning companies. Store the valuables somewhere secure before calling a house cleaning company.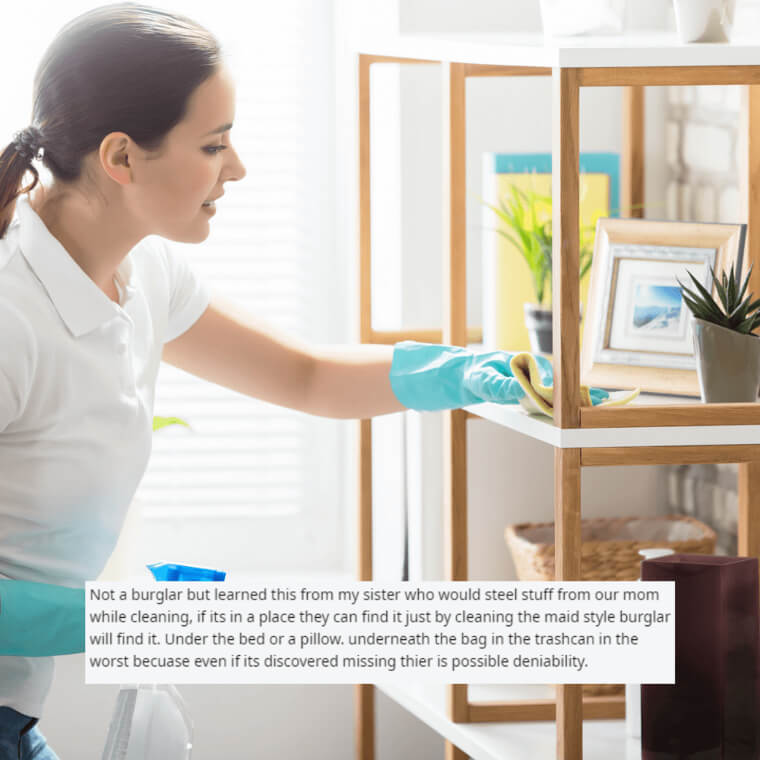 It makes a lot of sense because the house cleaners will see more of your home than other visitors, like a plumber or cable installation person. That is why you need to be careful about your hiding places.
Trick Them Into Stealing A Decoy
There are pros and cons to having a safe in the house. But one Reddit user found that having a decoy safe could be super helpful in saving your valuables.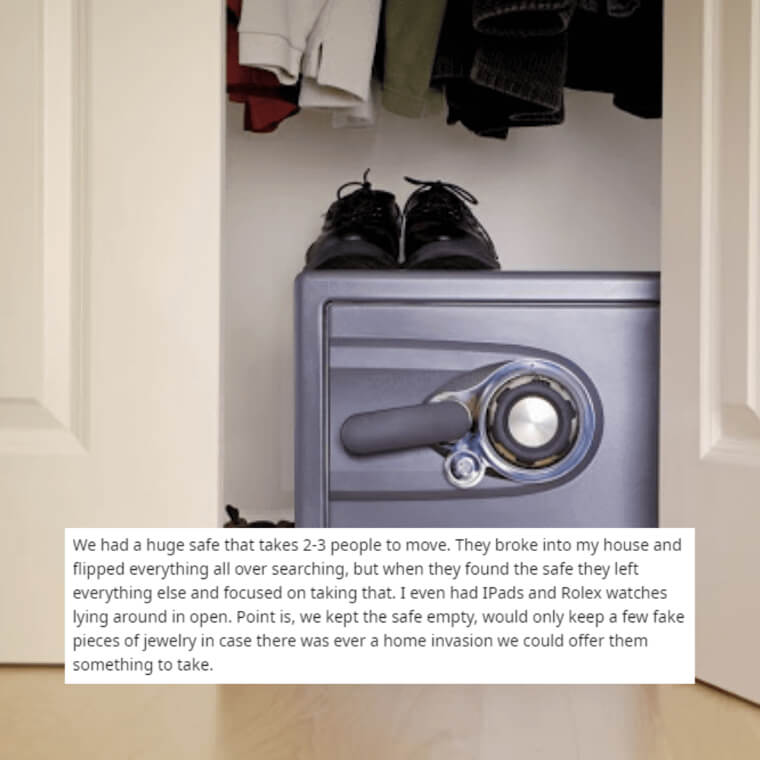 Try buying a cheap safe and use it as a decoy. The burglars will focus entirely on the safe as they will assume there's something valuable inside and might leave other items behind.
Use A Fake Door Key
We learned previously that gluing down the door key can deter a burglar. This Reddit user found that using a fake door key spooks burglars too.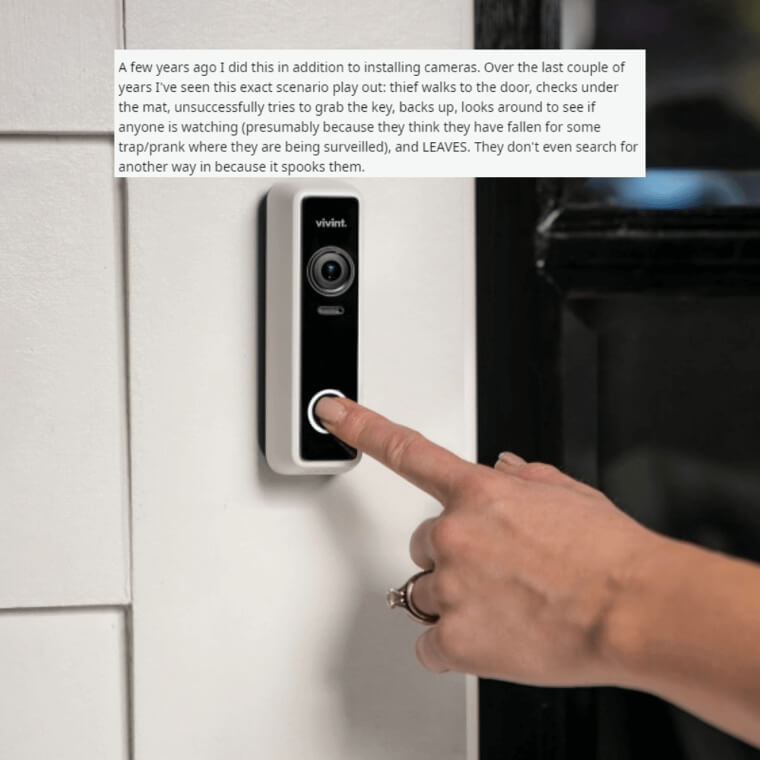 As burglars try to do everything fast, they can run off as soon as they realize they've fallen for the trap. Another Reddit user added that installing a doorbell camera is a great way to catch a glimpse of the burglar.
Ramp Up House Security
One tip most ex-burglars have given to homeowners is to increase the level of security. Having more security is going to make it challenging for burglars to break into your home.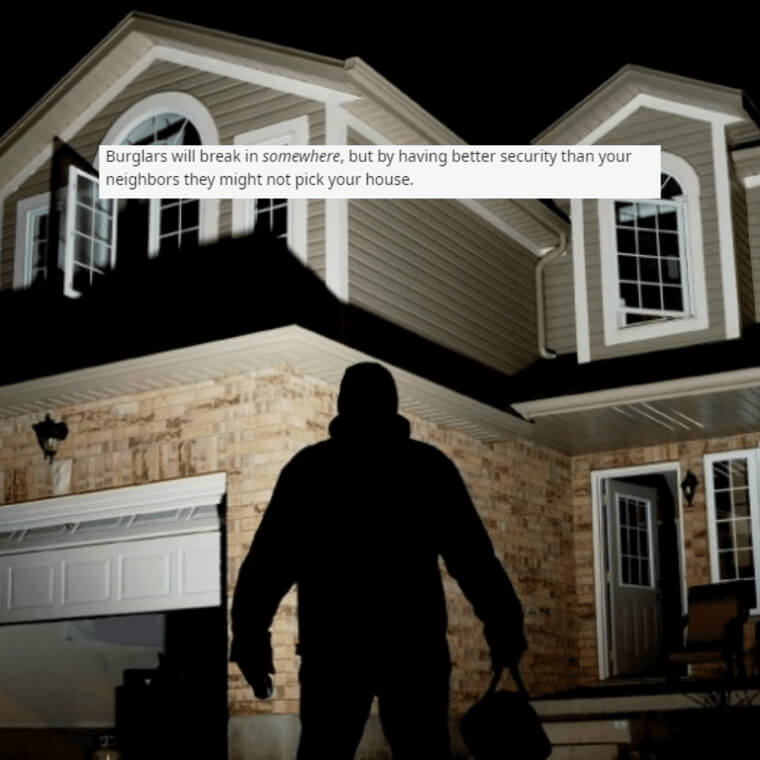 Even if you live in a populated neighborhood, increasing security is going to make your home more secure on the block.
Deter Burglars With Lights
In most cases, burglars break into the home when you aren't there. They usually take time to monitor the movement of homeowners before making the big move. That is why your home is more vulnerable whenever you go out of town.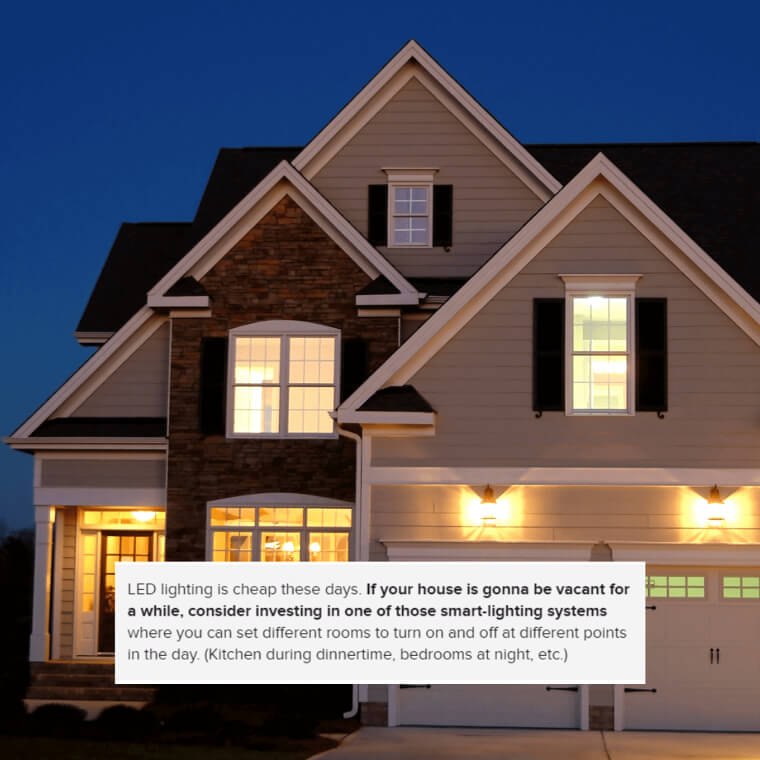 One way to minimize the risk of getting your home burglarized is to invest in a smart lighting system that you can easily turn on and off. Make sure to turn on the lights randomly. It will make the burglars think that homeowners are still in the house.
Find A House Sitter
One Reddit user pointed out that burglars break into houses of deceased people, and you can prevent it by finding a house sitter.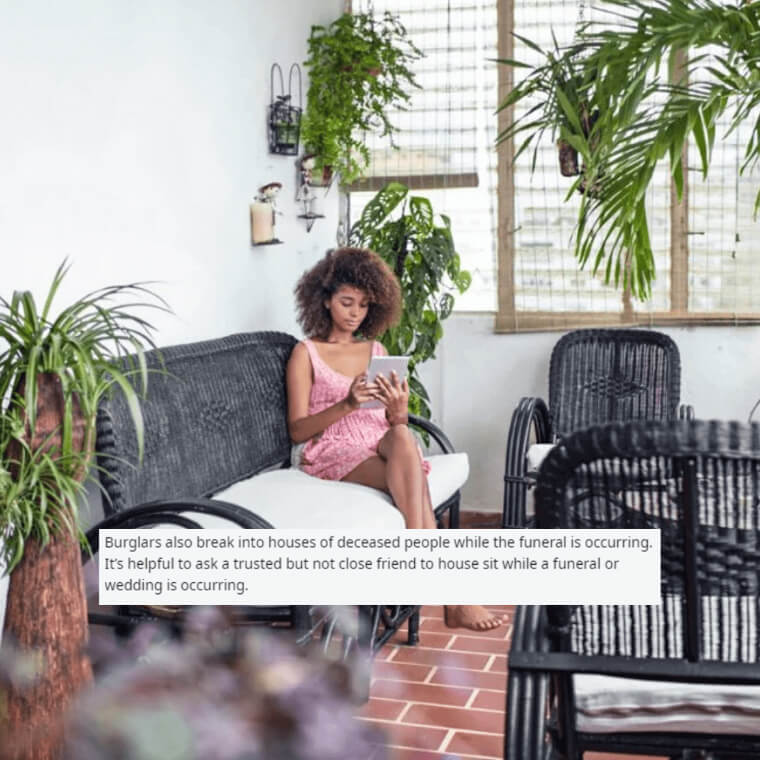 This tip can help prevent burglaries as everyone will be at the funeral, making the house an easy target.
Make Sure To Mount The TV
One Reddit user offered a tip that can prevent burglars from taking away your electronics quickly. Although laptops are easy pickings, a TV should be mounted.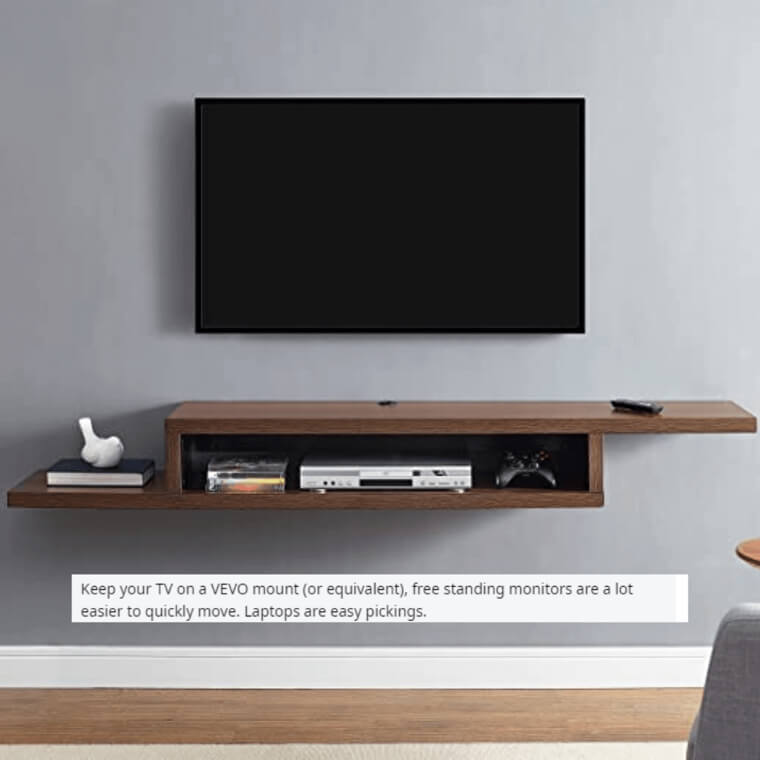 Burglars can easily grab and run with freestanding TV, and a mounted TV should require time to uninstall.
Make It Difficult For Them
A burglar robbing a house wouldn't want to stick around too long. After all, staying inside will increase the chances of being caught by homeowners or even apprehended.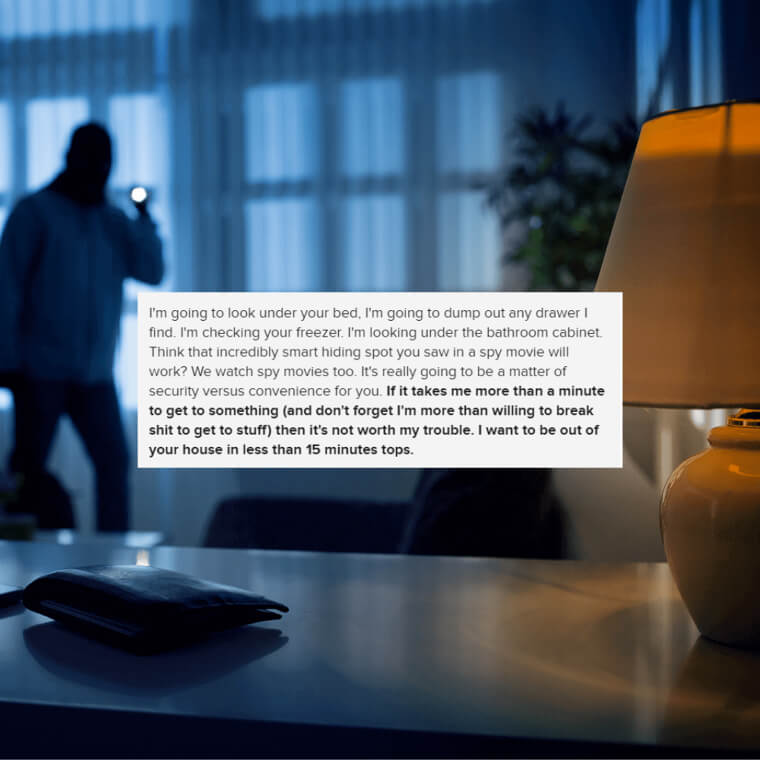 That is why burglars don't want to spend more than 15 minutes inside. It means they will most likely ignore inconvenient security and hiding spots.
Don't Go For Small Lockboxes
Keeping valuables in a small lockbox may seem like a good idea, but there are distinct disadvantages. You will be keeping everything of value in a small safe that a burglar can easily carry away.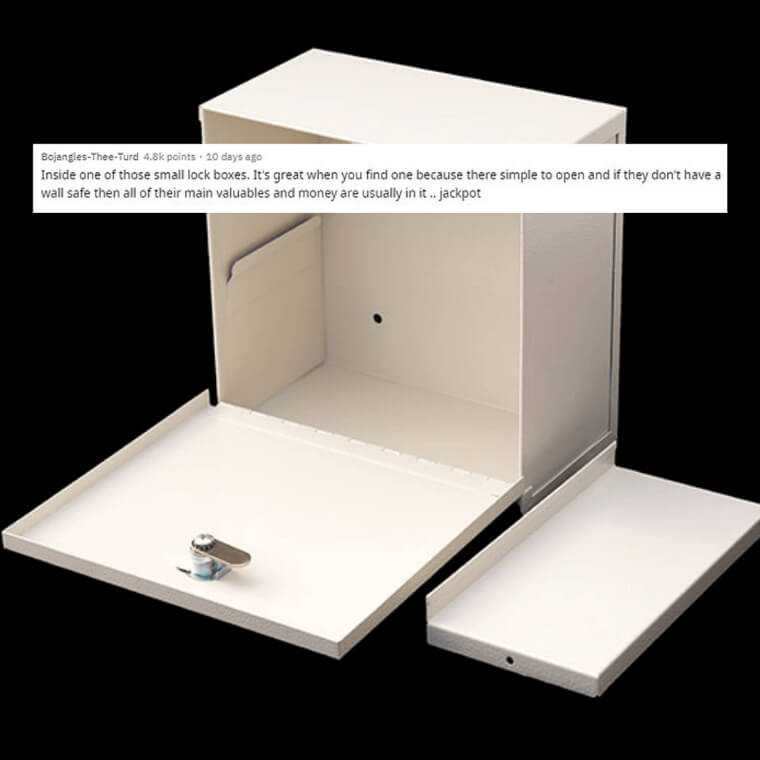 Even if the lockbox is hidden somewhere, a burglar will assume that there must be something worth stealing inside. Therefore, you should invest in a wall safe instead of a small lockbox.
Never Trust A Stranger
While some burglars want to do things without much trouble, others like to take their time.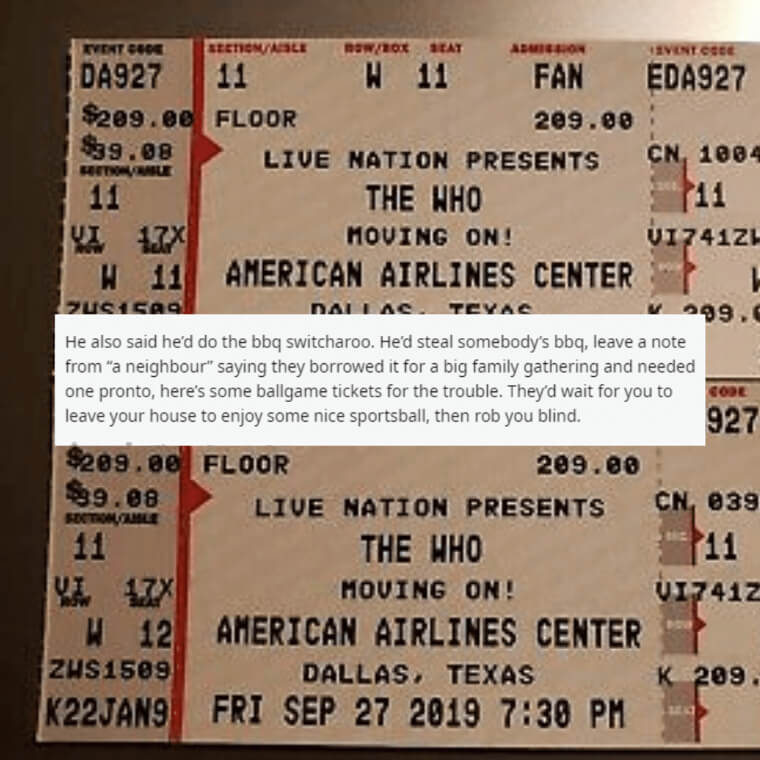 This method of getting into people's homes is smart and effective as they would "borrow" something and leave a heartfelt apology note along with tickets to an event. And when the homeowners are out, the burglars strike hard.
Even Medicine Cabinets Are Not Safe
Burglars are not after just expensive jewelry or direct cash. They can also take your essential medicine, as this Reddit user pointed out.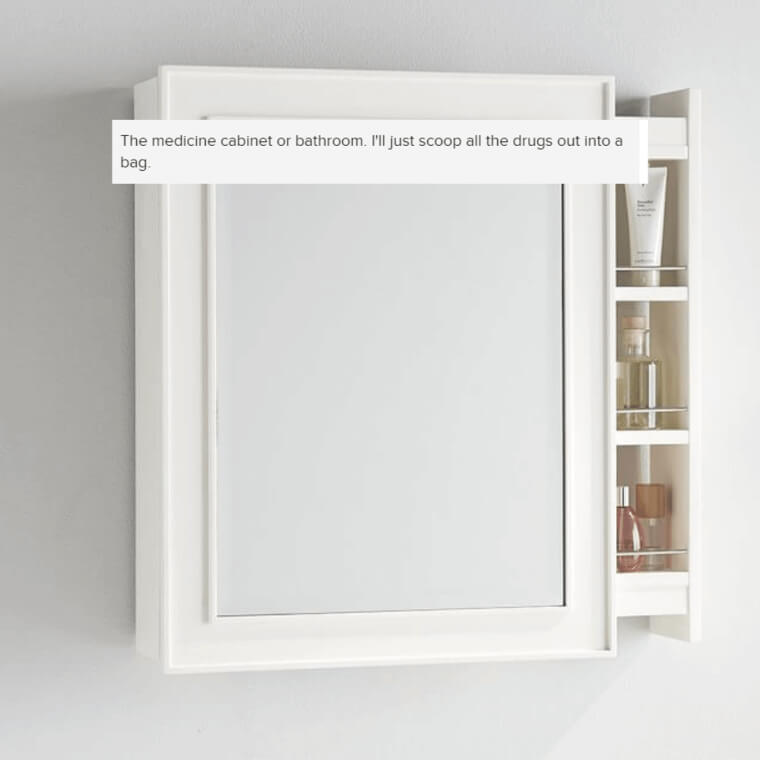 If you have expensive medication or something that you really need, it is recommended to keep it somewhere other than the medicine cabinet.
Never Let Your Kids Answer The Door
This tip is extremely important because kids won't feel suspicious or question anyone who tries to enter your home.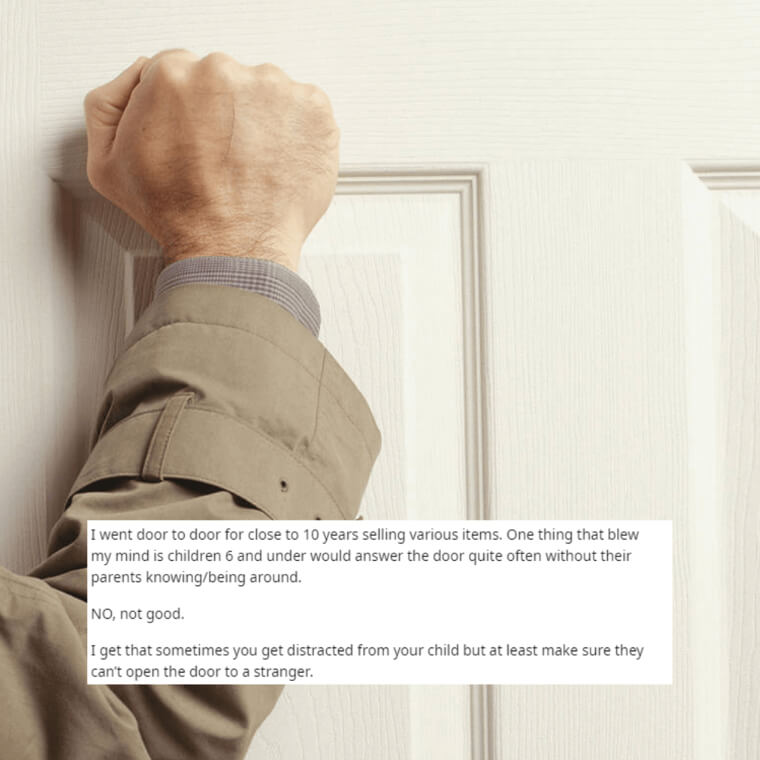 Kids can become an easy target for burglars since they can let anyone into the home. So even if you are too busy to answer the door, you should avoid letting your kids do it. Hey, better safe than sorry.
Your Safe Should Be Heavy Or Bolted
Investing in a safe seems like one of the best ways to protect your valuables. However, you should know that it is not as foolproof as you might think.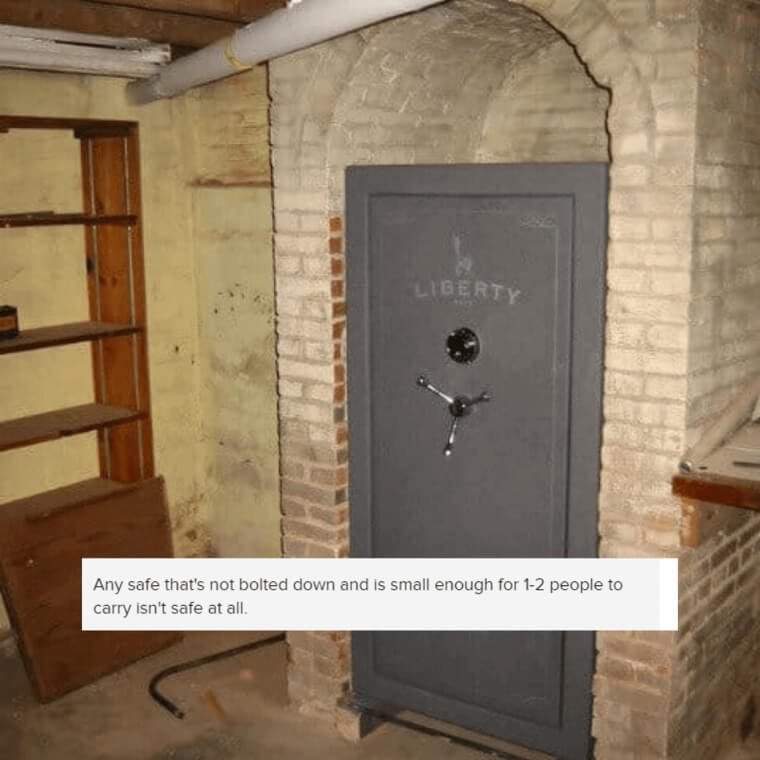 Even if the burglars are not able to break into the safe, they can carry it away if it is not bolted or heavy enough.
Keep An Eye On Your Purse
If you carry a purse around everywhere you go, there is always a possibility it might get stolen if you are not careful. Unfortunately, when it comes to purses, they get stolen pretty quickly.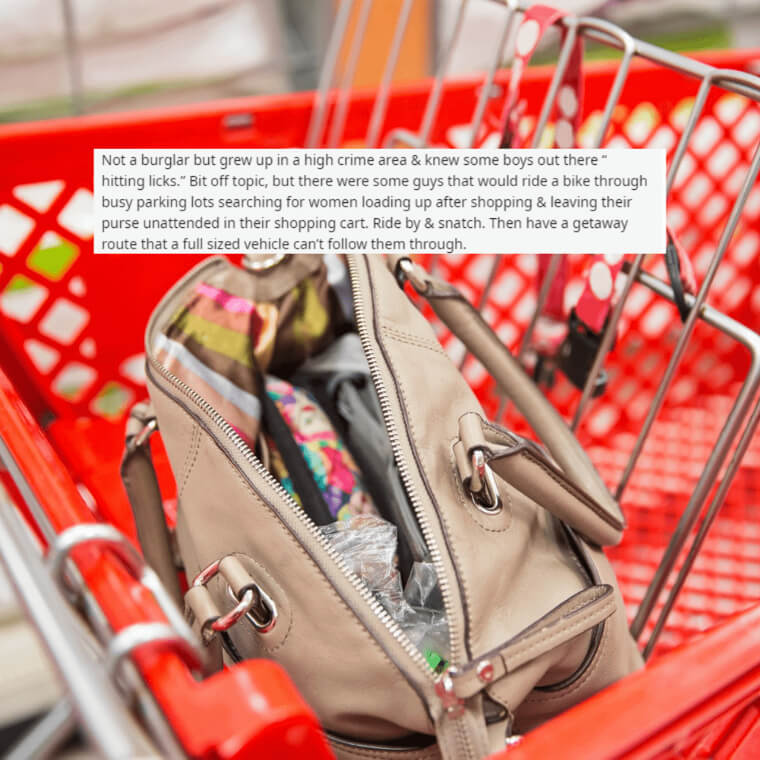 This Reddit user has warned others to keep an eye on their purses in parking lots. It would be best to put your purse in the car first before unloading items from the shopping cart.
They Even Steal Textbooks
We think burglars go after obvious valuables such as cash, debit or credit cards, electronics, and jewelry. However, one Reddit user warned people about things that we don't necessarily consider valuable.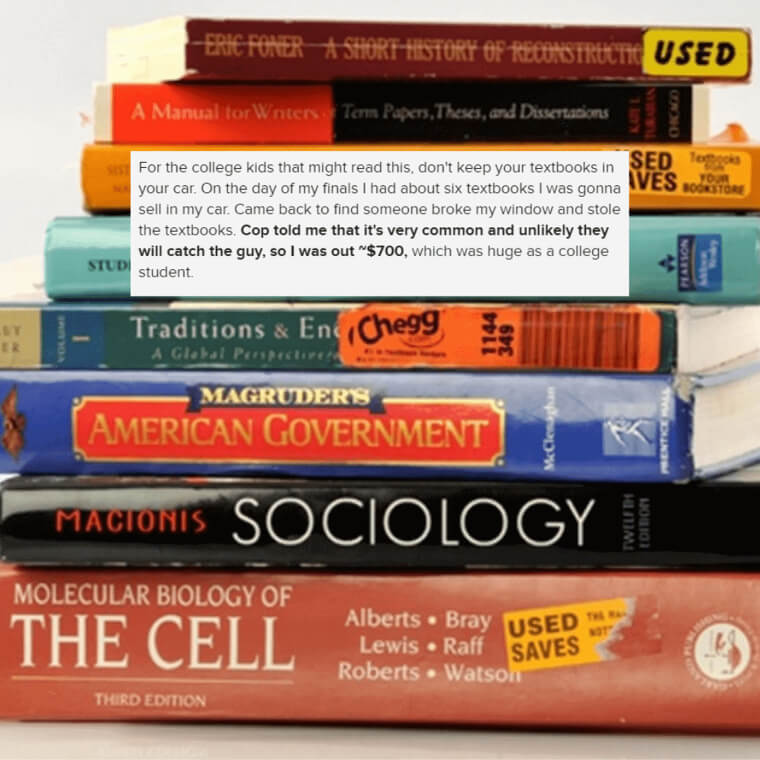 Burglars can steal textbooks and resell them for quick cash. Your textbooks are easy targets, particularly on campus.
Be Careful When Choosing Windows
If you are moving into a home, you don't have control over certain things such as the doors or the windows. However, it would be best if you considered a little renovation as soon as possible.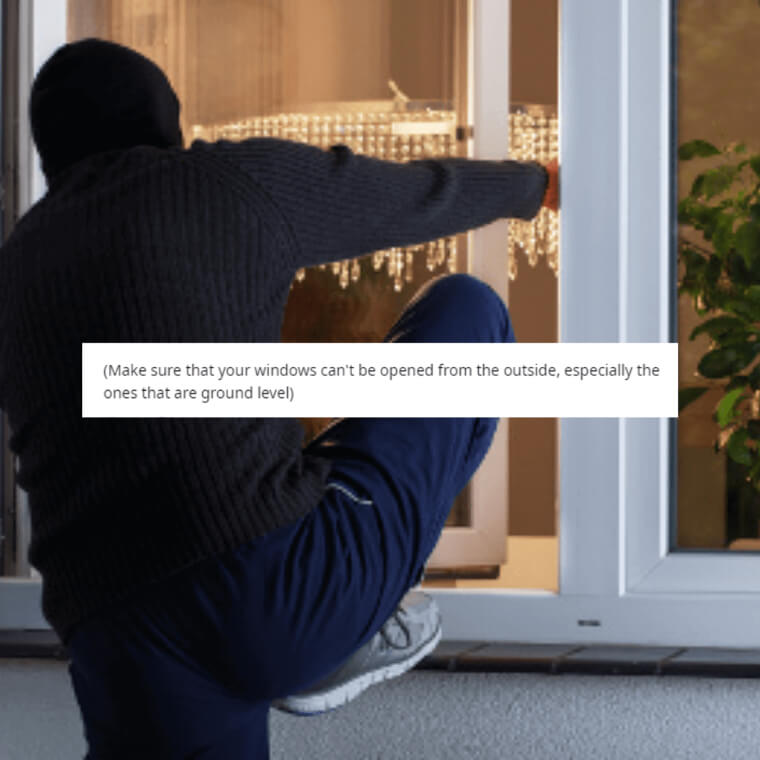 A burglar might avoid breaking the window and will try to get inside your home through an open window. You don't want windows that can open from the outside as they will offer a quieter and easier way to get into your home.
Go For Creative Hiding Spots
You have noticed so far that ex-burglars have highlighted the importance of time and how they look for obvious spots to find valuable items. That is why you need to be unique to make it harder for them to find your cash, jewelry, or other valuables.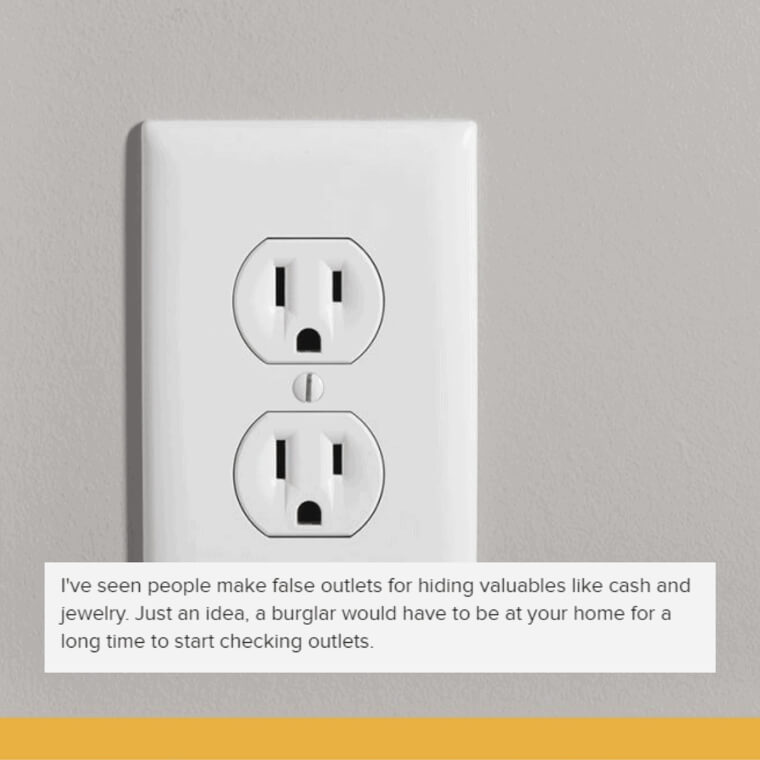 Going for a false outlet is a perfect example of how you can get creative. It can work because a burglar would have to be inside your house for a while to check every outlet and identify the false one.
Cash And Jewelry Aren't The Only Valuable Items
This Reddit user has pointed out that there are two types of burglars out there – those that know you and the common burglars that try to get in and out as soon as possible.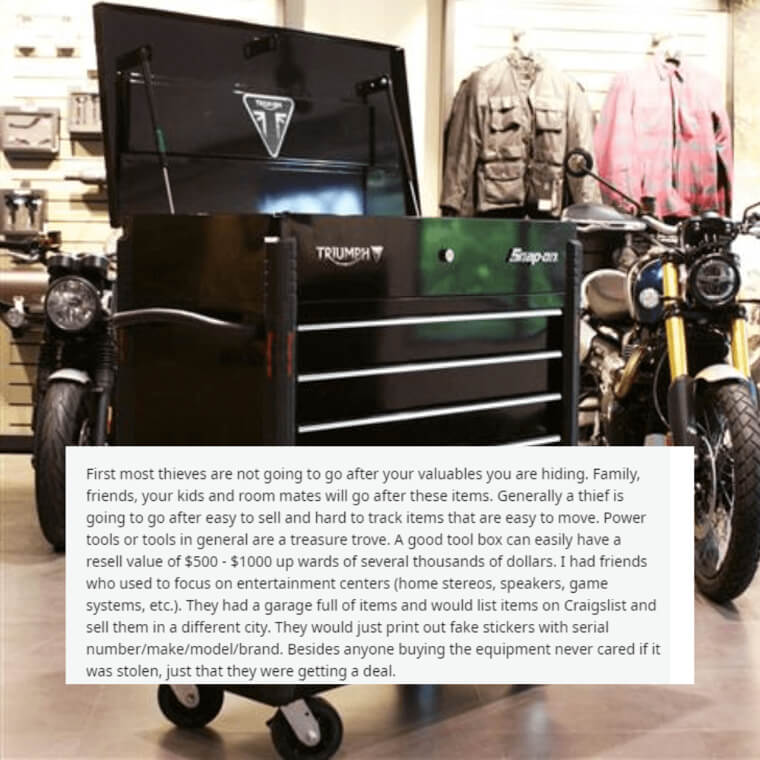 This person recommended never to keep valuable items on full display as burglars can easily pick them up and leave. There is an example of a toolbox that has good resale value.
Never Brag On Social Media
You know by now that announcing your future trips on social media can make you an easy target for burglars. The same rules apply to showing off expensive items too.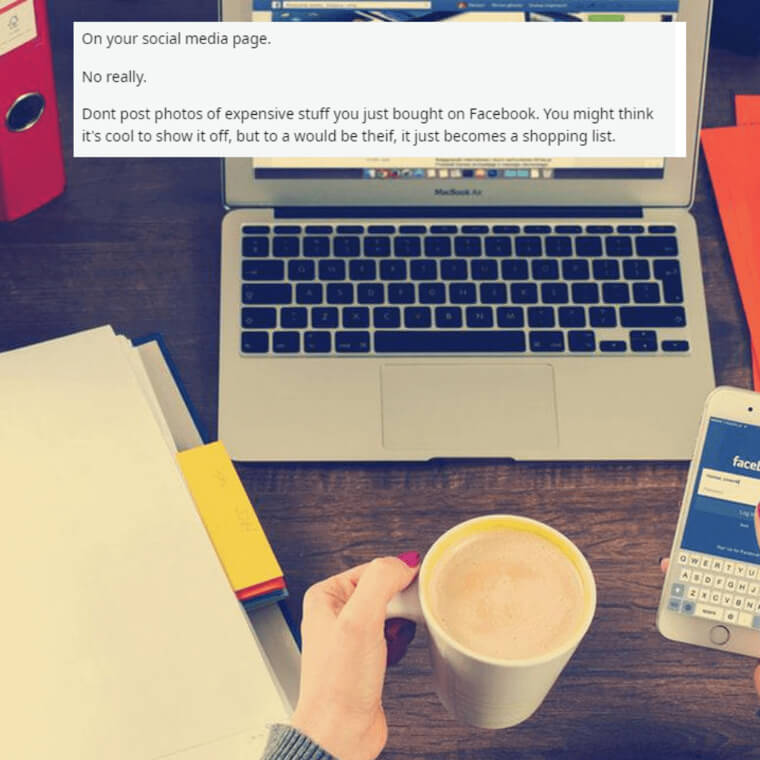 If you have something valuable inside your home, don't brag about it. After all, a burglar would take it as an invitation.
Never Leave Valuables In Your Nightstand
This tip comes from a person who learned about it the hard way. They learned a lesson never to leave valuables on the nightstand.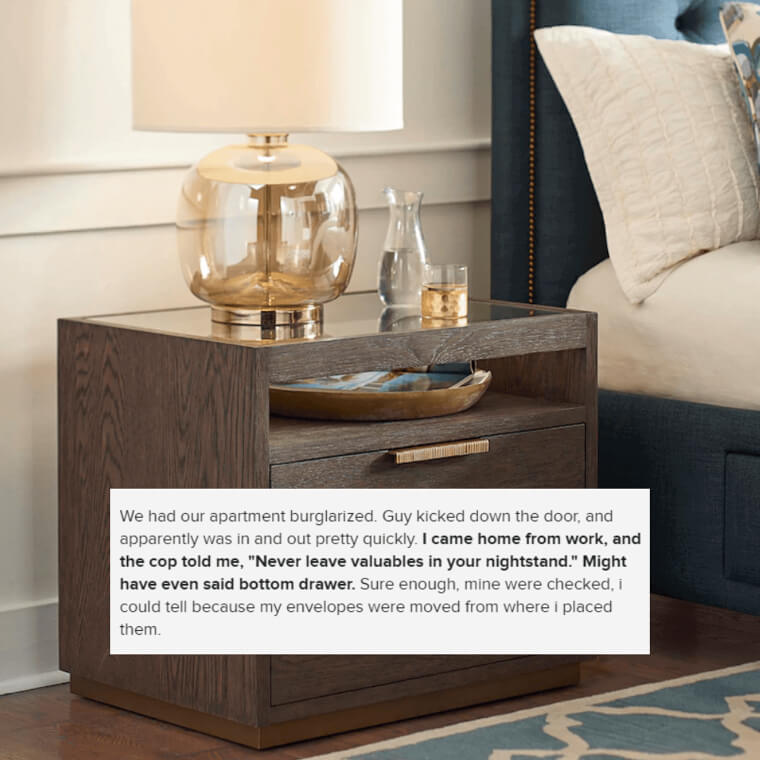 The cop told the Reddit user that a burglar checks the usual spots as they have very little time on their hands.
Let Someone Else Find Your Hiding Spots
If you are afraid that a burglar might find hiding spots easily, consider getting a fresh pair of eyes to look for them. If your partner, family member, or a trusted friend can find the hiding areas, you have to look for other creative spots.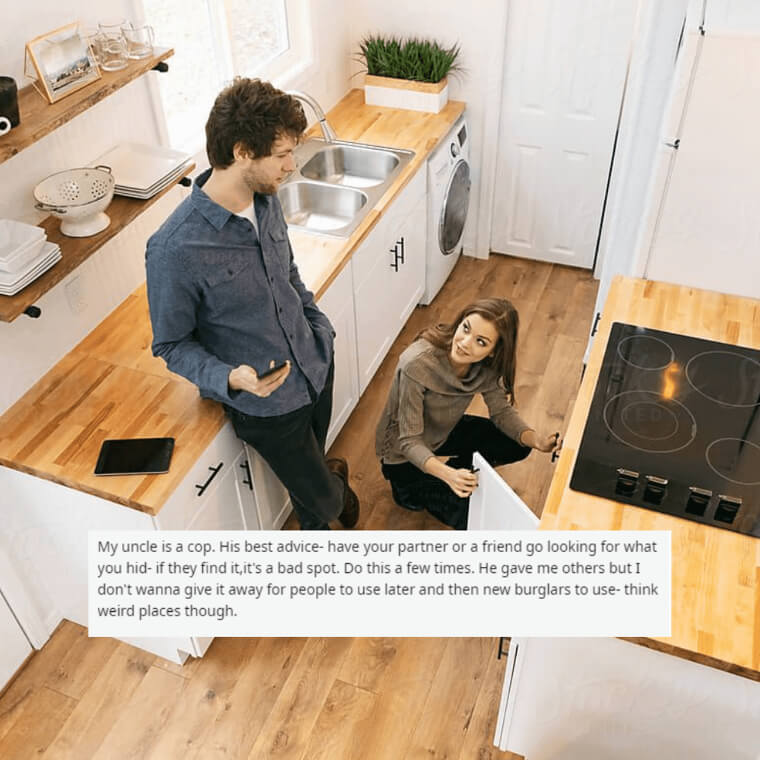 This tip comes from a person whose uncle is a cop. So, you should definitely consider it.
Keep Your Shed Locked
Most of us usually take extra precautionary measures to increase home security, but we often ignore the garage or shed.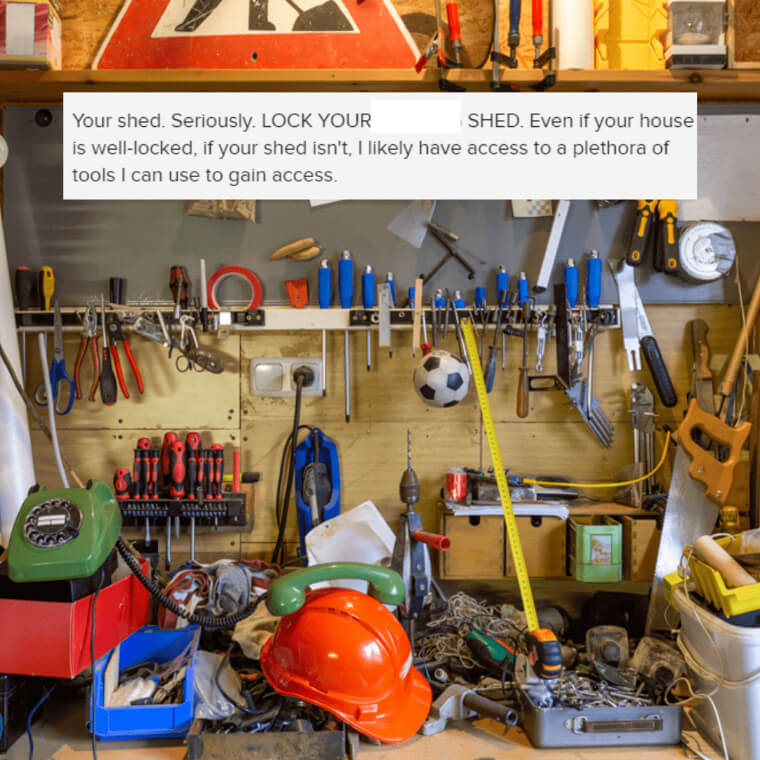 This Reddit user is giving you a clear warning that an open shed has numerous tools that can be used to help gain access to your home. Don't take this warning lightly!
Go For Shatterproof Glass
Installing security glass is, without any doubt, the most practical way to protect your home against burglary attempts and break-ins.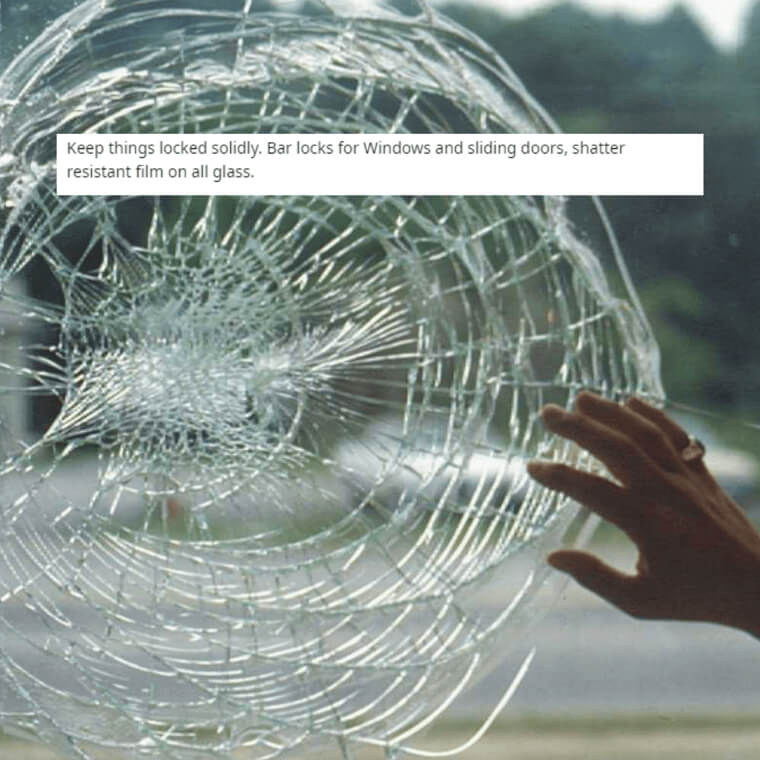 You can also apply the shatterproof film on all windows to stop them from being easily broken. You should definitely consider this solution for extra security and peace of mind.
Prepare For The Worse
Even if you try everything to ramp up the security of your house and choose the most creative hiding spots, there's a possibility of a burglar breaking into your home with ample time on their hands. That is why it is best to keep valuable items off-site.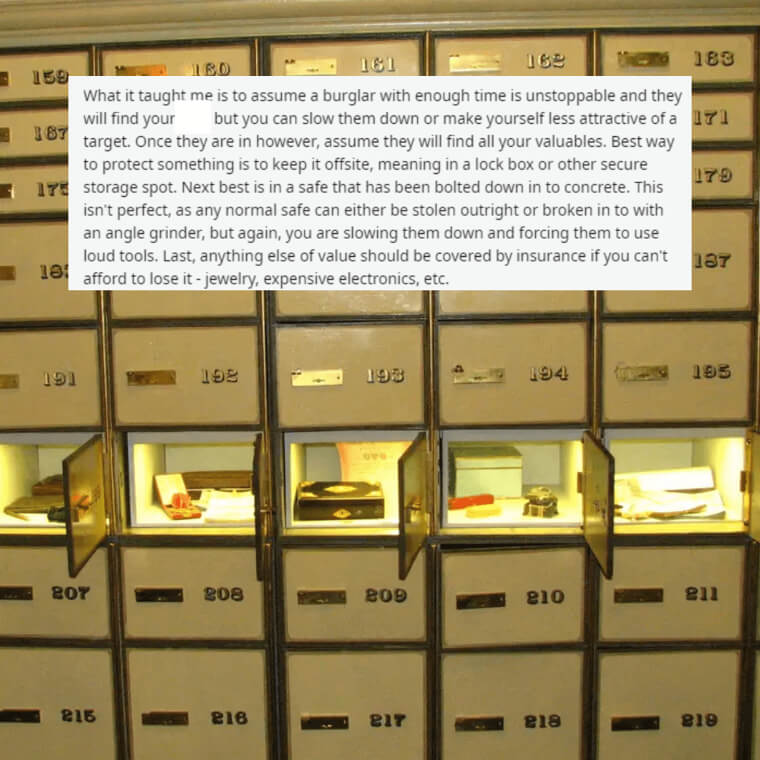 If you have something highly valuable, this tip can come in handy. Even in the case of a break-in, you won't lose your most valuable possessions.
Start Considering The Basement
We have already discussed how you can hide valuables inside your home. This tip of considering the basement to hide valuables comes from an ex-burglar who sincerely regrets choosing the wrong path 30 years ago.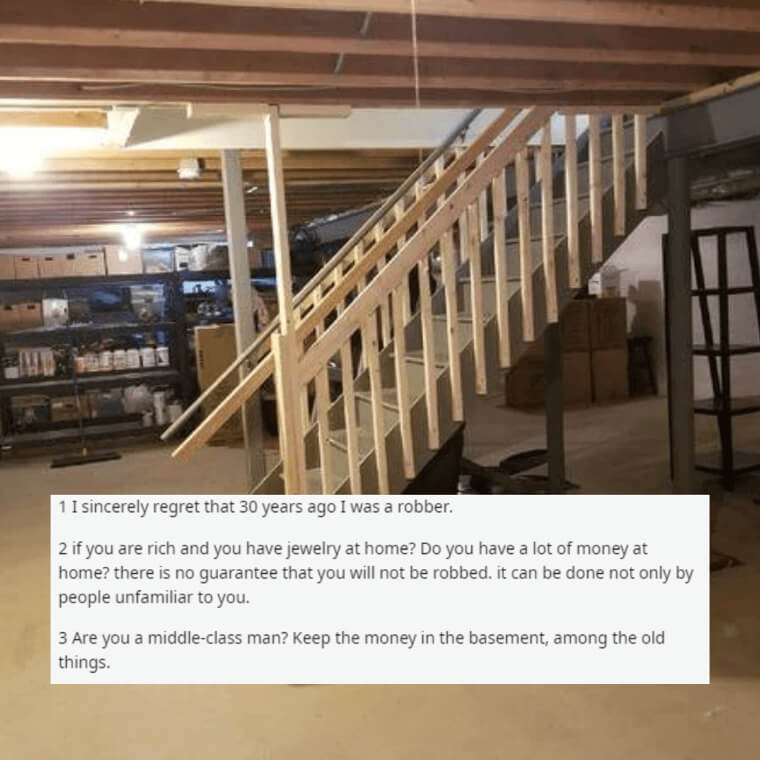 The tip can come in handy for middle-class homeowners, as burglars won't have enough time to go through so many old items in the basement or attic.
Get Home Security Cameras
You can find tons of home security equipment and measures on the market. According to a lot of ex-burglars, getting home security cameras is an effective burglar deterrent.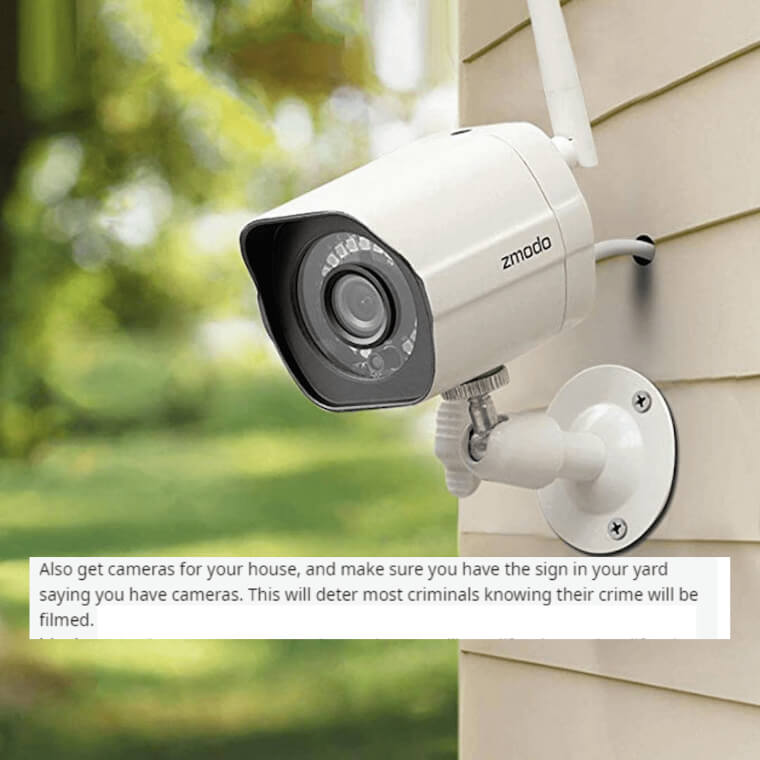 It would be best to invest in a security camera system. You can also put up a sign, something like "You're Being Watched."
Sliding Glass Doors Are Not Secure Enough
Although sliding glass doors are popular among homeowners, one ex-burglar advises against using them. You can find many ways to protect sliding glass doors from burglars, but this particular person is confident they will not work.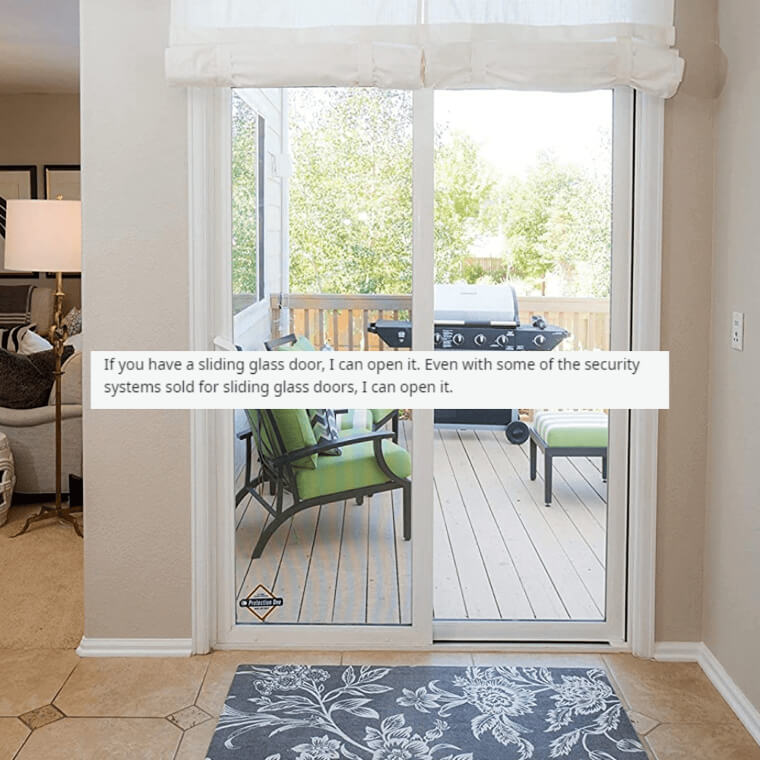 As sliding glass doors pose a security risk, you should consider other door options. Why take a chance, right?
The Freezer Hiding Spot Is Common, Don't Rely On It
Although using the freezer to hide valuable items might seem like a clever spot at first, you should know that this idea has become quite common, which means burglars know about it too.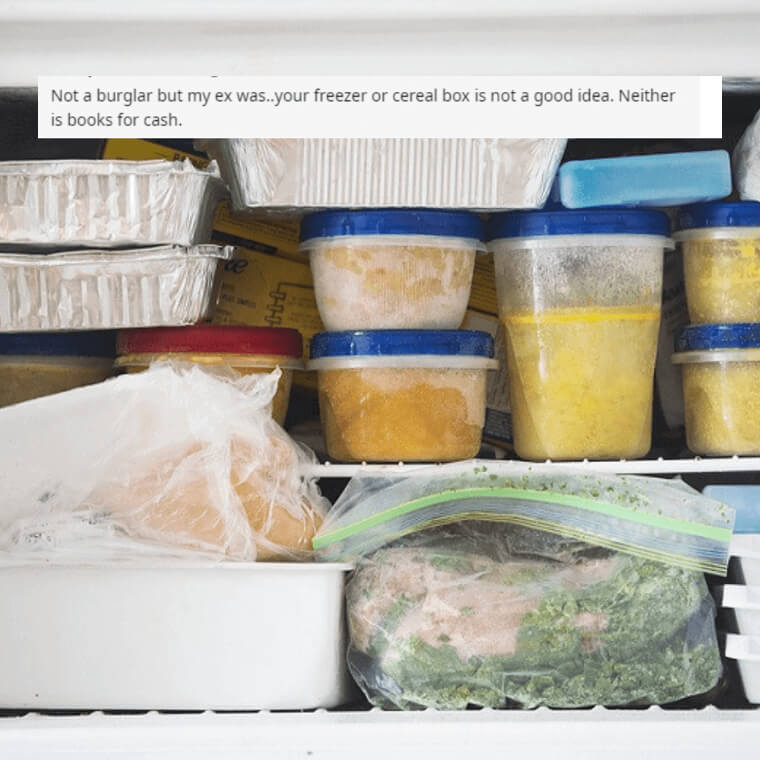 This Reddit user learned from their ex, who happened to be a burglar, that hiding valuables and money in a freezer or a book is unsafe.
Show Your Presence By Frequently Mowing The Lawn
We've discussed how you need to use smart lights to make it look like someone is staying at home even when you're out of town. You can also mow your lawn frequently to avoid becoming a potential target.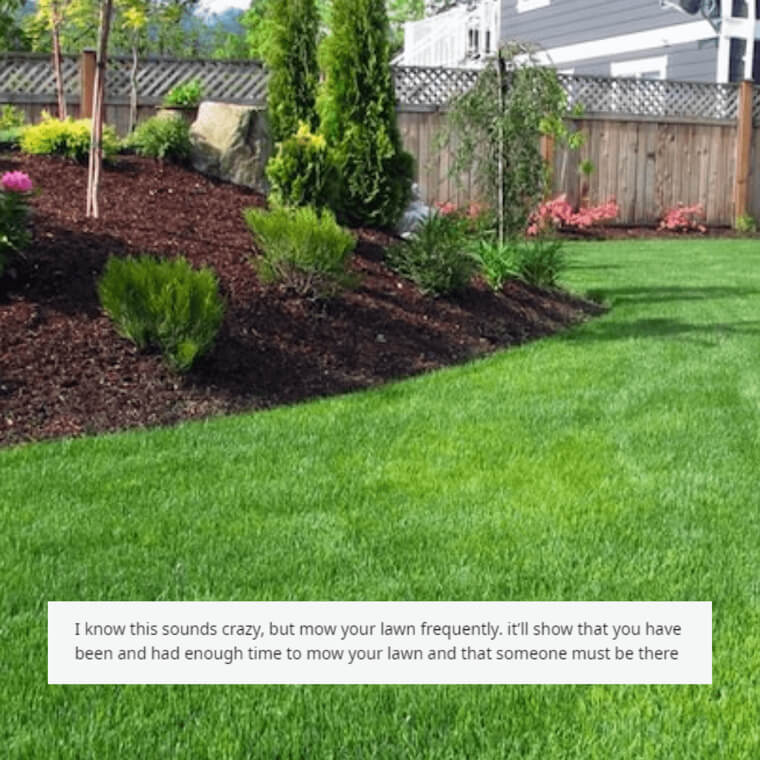 Overgrown grass indicates that homeowners have been out of town for too long. This is a green signal for a potential burglar.
Don't Give Them A Reason
This tip is pretty logical because people buy new stuff and leave the boxes near the garbage bin. It gives a clear signal to a potential burglar that breaking into the house is worth the risk.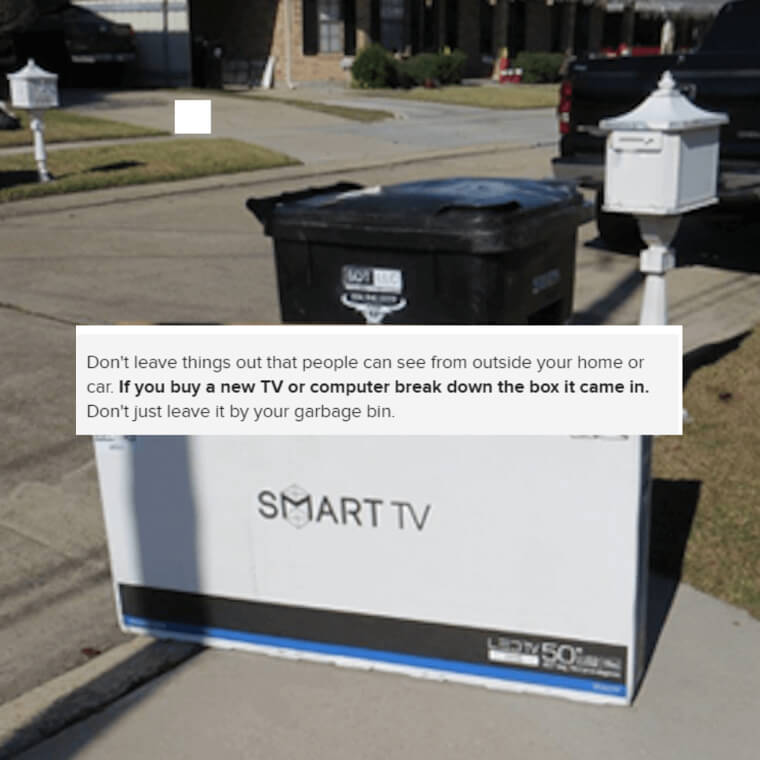 So, if you buy expensive stuff, don't throw the boxes near the garbage bin. Instead, just break down the boxes.
Outsmart Them With Fake Jewelry
We know that burglars are more tempted by less obvious hiding places. You can use this point to your advantage. By filling a fake jewelry box and some money on the top, you can trick a burglar into thinking that they've hit the jackpot.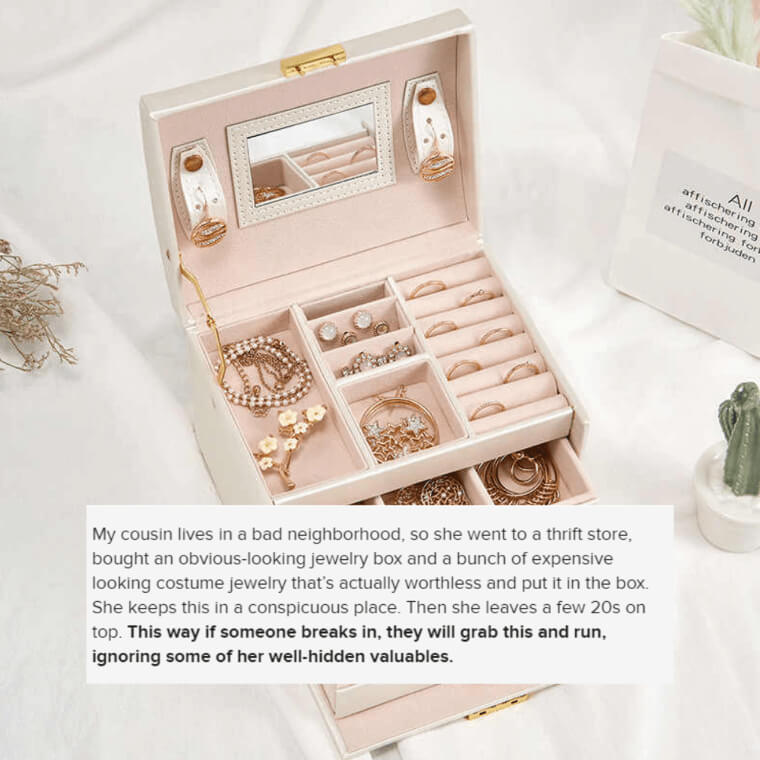 If it works, there is a high possibility that they will avoid real valuables and leave the place knowing that they got what they wanted.
Fireproof Safe Problem
People who buy fireproof safes expect that they will protect their valuables from fire and theft.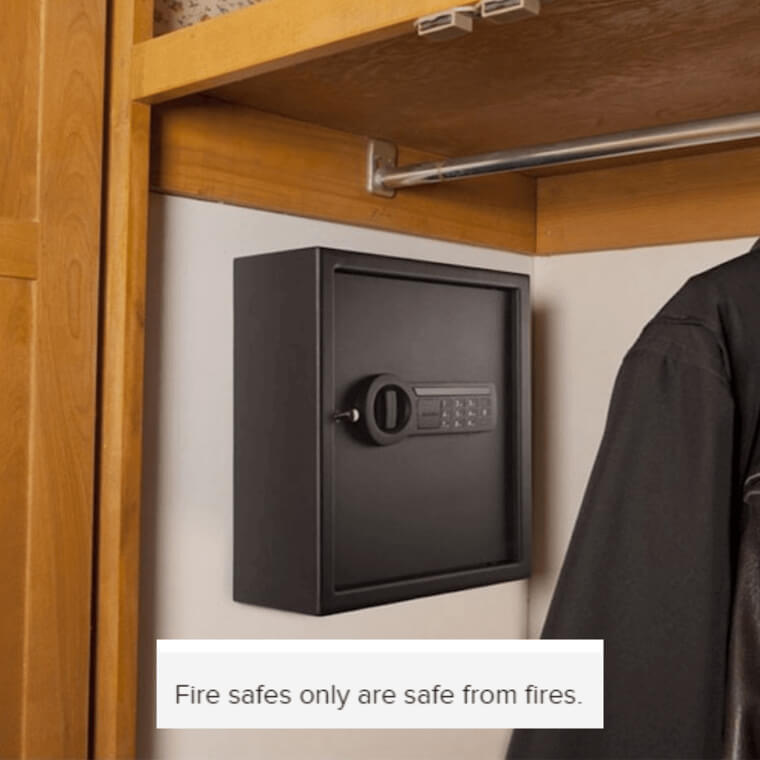 A fireproof safe can guarantee that your valuables will remain unharmed in case of a house fire, but there is no guarantee that it will be safe from theft.
Locked Drawers Often Become The Obvious Target
A burglar breaks into a home to steal only valuables. So when they find that a drawer is locked, they immediately think that there must be something valuable inside.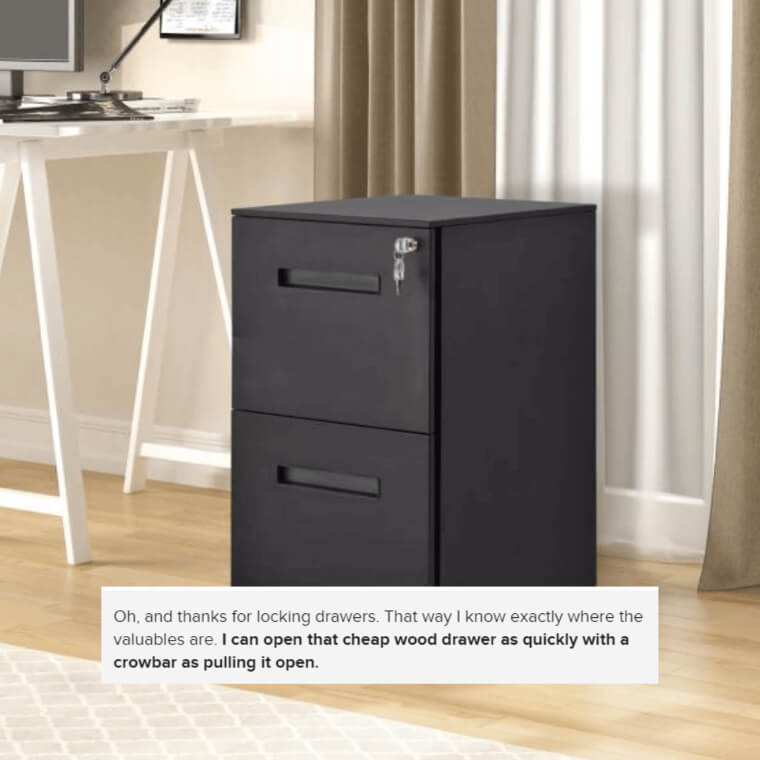 Although letting the drawer remain unlocked is opposite to the concept of keeping your possessions safe, it can trick a burglar into thinking that there is nothing valuable inside it.