This article was originally published on
Kueez
When it comes to broadening our horizons and enjoying new experiences, nothing really comes close to traveling. Whether it's exploring mesmerizing landscapes or discovering unique cultures, every country offers something distinctive and exciting. It's fair to say that when it comes to sampling local cuisine, most of us probably think of traditional dishes or street food. Even though fast food joints aren't usually the most exotic, here's the thing - there are some fast foods out there that are so bizarre, they will either make your mouth water, or scream in horror!
Chocodilla – Taco Bell (Guatemala)
If you've ever had the pleasure of visiting a Taco Bell, the famed Tex-Mex fast-food chain born in California in the sixties, you might be familiar with some of the slightly more quirky options on their menu.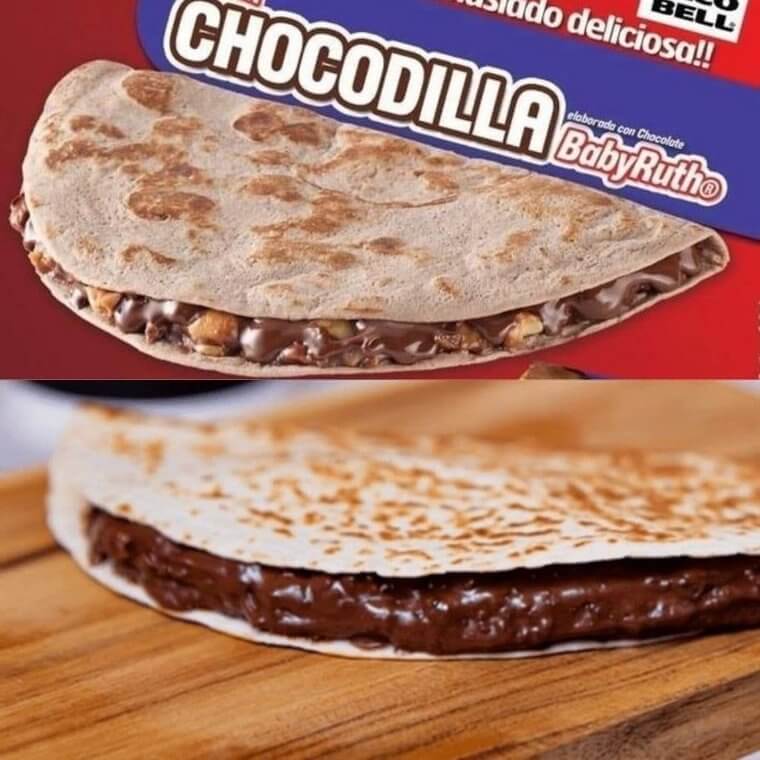 However, we're yet to see anything as curious (and tempting) as the Chocodilla, a Babe Ruth American candy bar-filled chocolate quesadilla. The only downside for those who like a desert as their main course? You'll have to trek to Guatemala to track it down.
Edible Coffee Cups – KFC (United Kingdom)
This next item on the menu might be bizarre, but it's also the most inventive — and certainly sustainable — on our list. All of us are trying to find ways of wasting less when it comes to our food products, whether that's recycled packaging or reusable containers, but KFC in the UK surely takes the prize with this novel concept.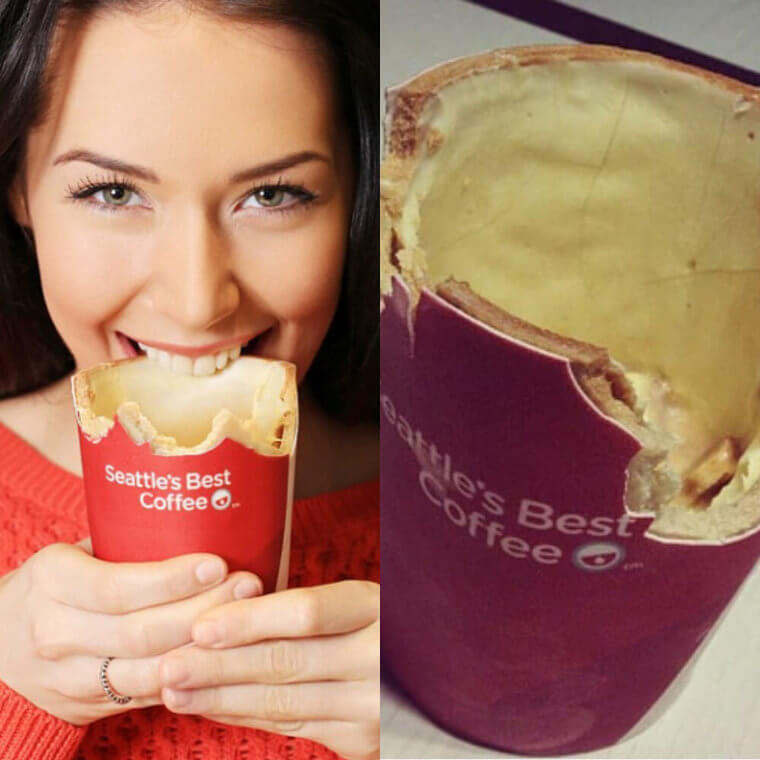 Rather than ditching your paper cup after you've sipped on your morning espresso or swigged your mid-afternoon latte, you can eat the thing instead. It sounds strange, but KFC's coffee cups are made from wafer cookies. Delicious? Check. Ingenious? Check.
Pizza Sized Burgers – Burger King (Japan)
There are two ways of looking at this one. Either, Burger King Japan has presented their diners with the ultimate way to share with friends. Or, they've presented them with an excuse to eat a hamburger the size of a pizza.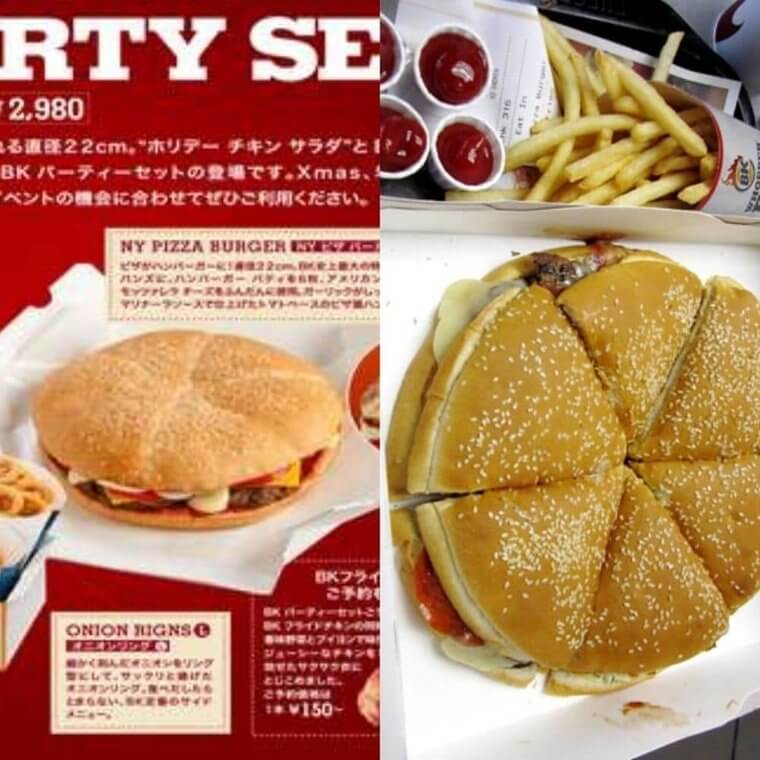 Burger King's fast-food hybrid actually makes a lot of sense. After all, what's better than a burger and a pizza? A pizza-shaped burger, obviously.
Sausage N' Egg Twisty Pasta – McDonald's (Hong Kong)
This next dish might look a little out of place next to a quarter pounder with cheese in an American McDonald's, but Sausage N' Egg Twisty Pasta is hugely popular among its customers in Hong Kong.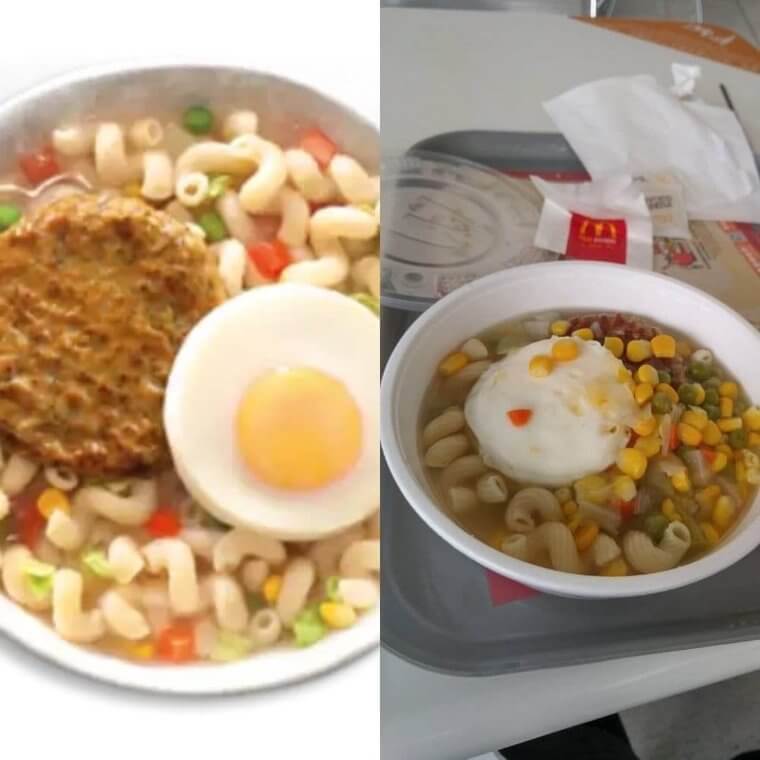 There are variations on the pasta dish as well, depending on the time of day you visit the restaurant. While early birds can enjoy sausage or ham options during the morning, later diners can choose to pair the egg with chicken. Alternatively, you could sit there all day and try all three!
Spinach and Parmesan Nuggets – McDonald's (Italy)
Okay, it might come as no surprise to learn that parmesan features somewhere on the McDonald's menu in Italy. But you probably wouldn't have guessed that they'd be available in nugget form!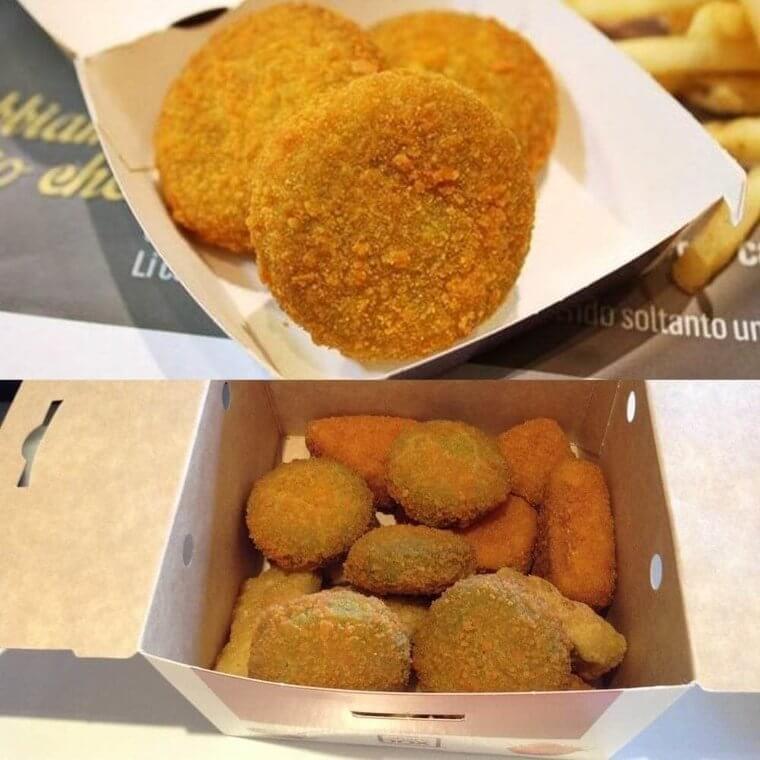 Mixed with spinach, we can't think of a better snack to graze on whilst strolling the streets and soaking up the sights in Venice, Florence, or Milan. Bellisimo!
X-Tra Long Chili Cheese Burger – Burger King (South Africa & Australia)
It's a well-known fact that South Africans and Australians love their beef. BBQ culture is a big deal in both countries, so it only makes sense that Burger would serve up extra meat in the form of the X-Tra Long Chili Cheese Burger.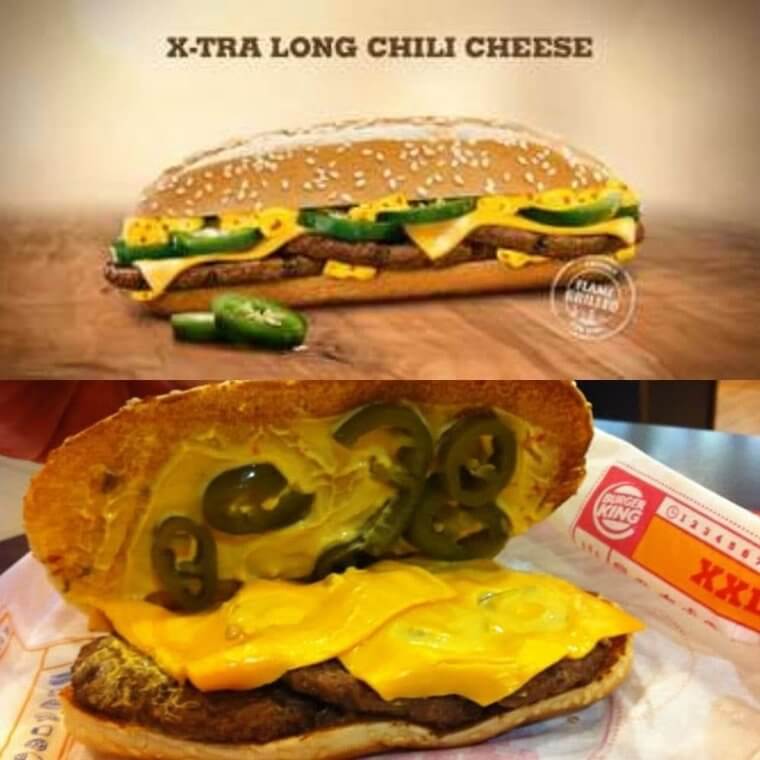 The meat-filled sub looks like the hangover cure from heaven, the beef patties smothered in American cheese and topped with jalapeños and chili. A g'day guaranteed.
Double Down Dog – KFC (Philippines)
We hope that those of you lucky enough to have visited the Philippines didn't leave the country before tracking down the Double Down Dog. This meat lover's dream comprises a hot dog nestled inside a bun-shaped piece of fried chicken, topped off with a healthy squeeze of cheese.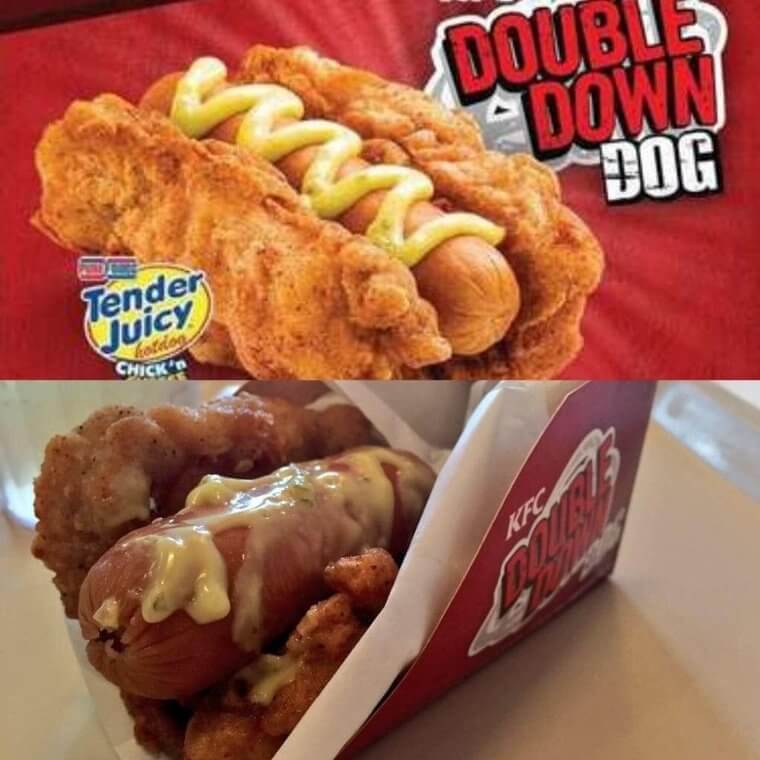 While we should applaud KFC on their inventiveness, we should also be asking the question: why must we fly thousands of miles to sample the deliciousness?
Spam and Cheese – Burger King (Japan)
Let's be honest, spam isn't exactly the most exciting ingredient we've ever seen on a Burger King menu, but diners in Japan clearly think otherwise.
The unusual sandwich, topped with cheese, lettuce, pickles, and mayo is a hearty way to start the morning (to say the least). Another option as a tempting hangover cure? We'll be sure to give it a go following a night on the town in Tokyo.
Kit Kat Sandwich – First Kitchen's (Japan)
We think it's time to book that flight to Japan just to get a taste of this next item. In the land of the culinary weird yet wonderful, First Kitchen's has taken the chocolate sandwich to a whole other level with the Kit Kat Sandwich.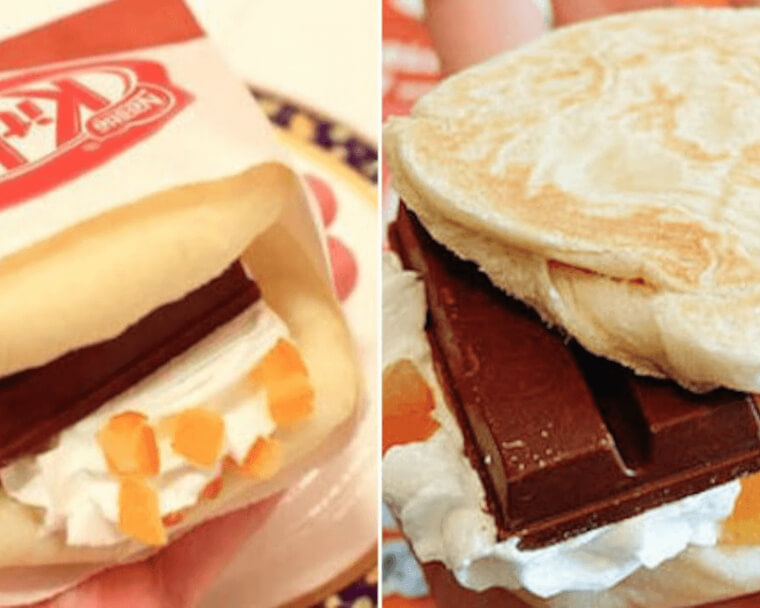 The bread appears to be similar to pancake consistency, with the four-bar Kit Kat stuffed inside and smothered in whipped cream. This is what you call a guilty pleasure! To be enjoyed in moderation, of course.
Squirting Crust Pizza – Pizza Hut (Malaysia)
This had us hooked from the title alone. Taking regular stuffed crust to the next level, let's hope Pizza Hut in Malaysia serves this wacky option with a hazard warning.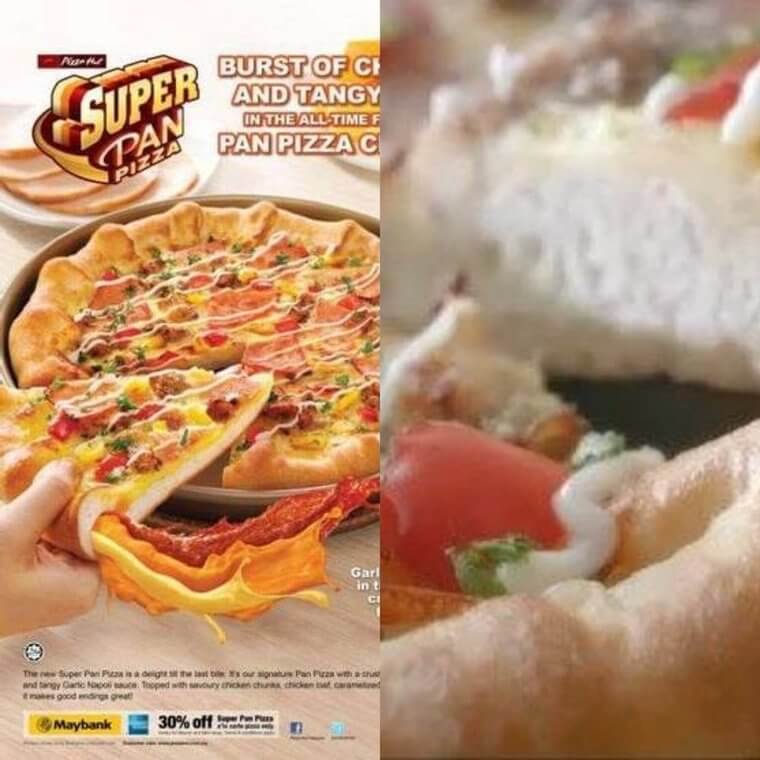 This seemingly innocent-looking pizza shoots hot cheese out from its crust, which might come as a surprise to you or maybe even the person you're sitting next to. Don't say we didn't warn you!
Double Decker Pizza – Pizza Hut (Singapore)
The perfect option for people who can't decide to have, Pizza Hut Singapore's Double Decker Pizza provides its diners with two meals at once.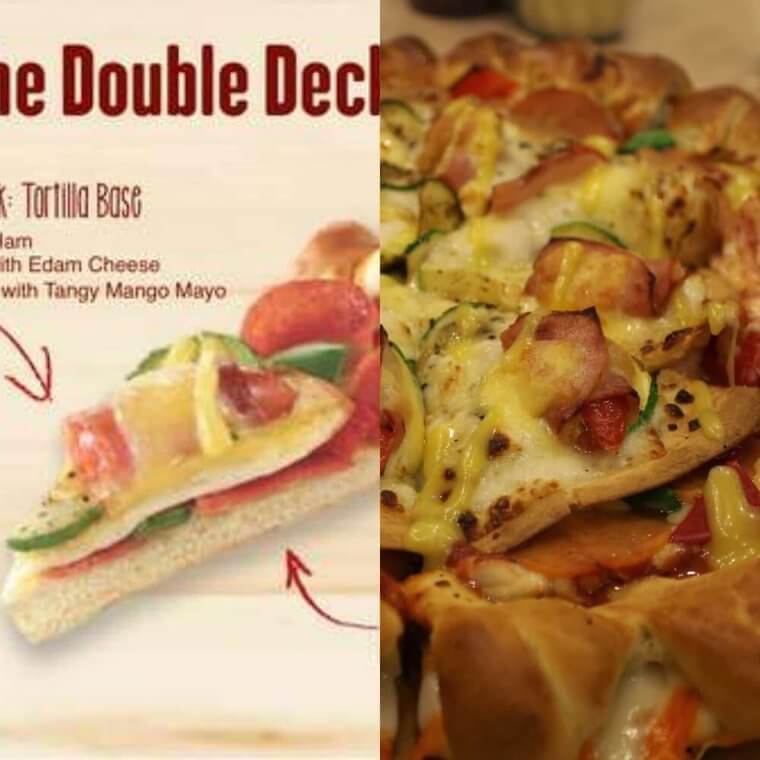 On top of a regular pizza sits a tortilla topped with turkey ham, mayonnaise, and... mango. That's a lot of flavors in one go, but we're definitely down to try.
Spinach Muffin – Starbucks (Hong Kong)
This one might seem odd at first, but with the health-conscious crowd, Starbucks is surely onto something with their Spinach (cheese and green bean) Muffin.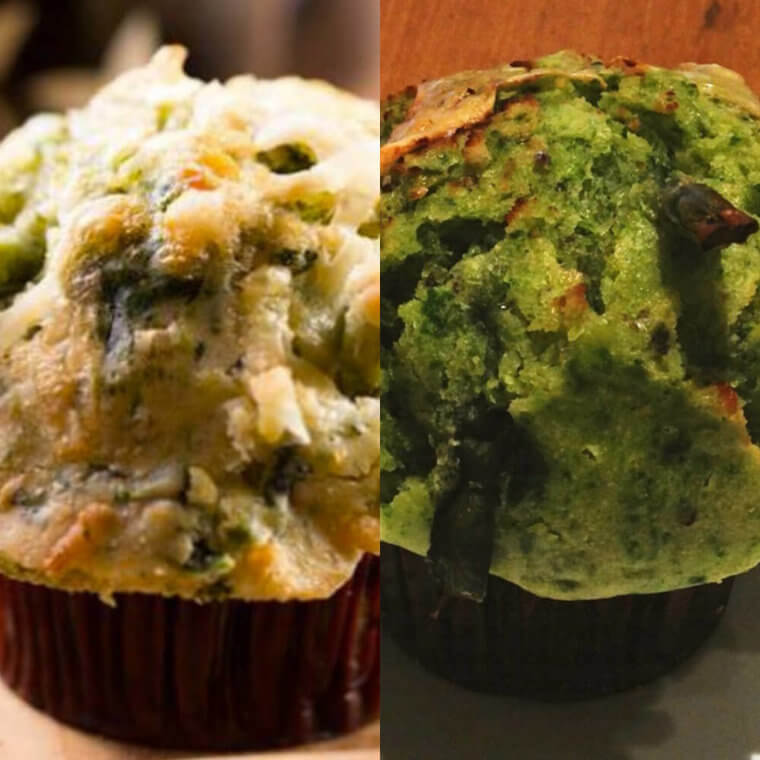 You might typically associate muffins with sweet fillings like blueberry or chocolate chip, but healthy Hong Kong commuters can grab a suitable snack with their morning coffee.
Deep-Fried Salmon – KFC (Japan)
Back to Japan again for another interesting concoction. We'd trust KFC to deep-fry pretty much anything, but could salmon possibly be a bridge too far?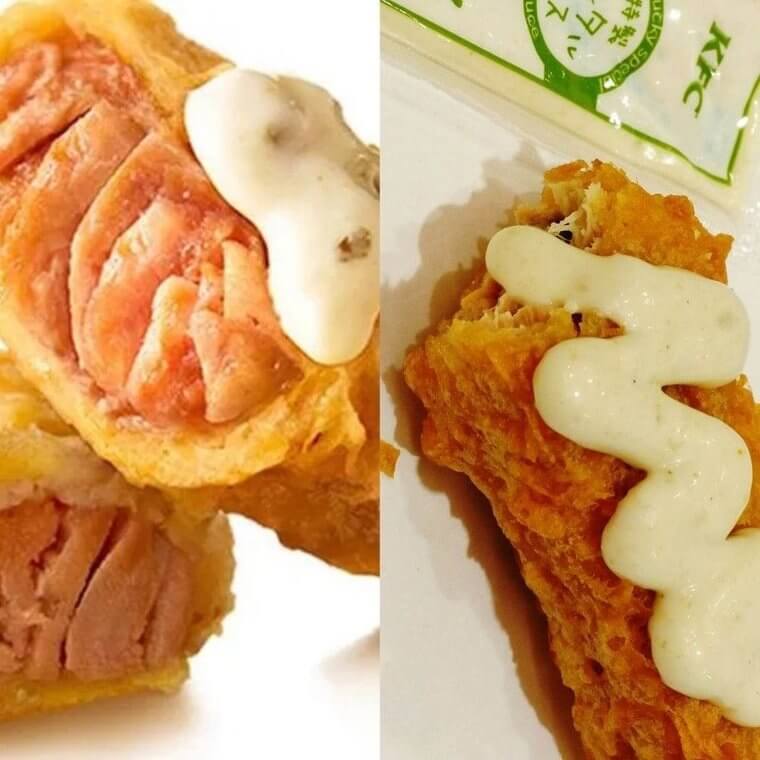 There's only one way to find out, so if you happen to visit Japan and you're feeling spontaneous then head to KFC and take the plunge. Wondering what will your deep-fried salmon be served with? Tartar sauce, basil sauce, and lettuce.
Black Ninja Kuro Burger – Burger King (Japan)
You don't necessarily have to be a ninja to try this one, but it certainly isn't for the faint-hearted. We're not even close to the end of this list, but Japan really does take the crown for bizarre fast foods.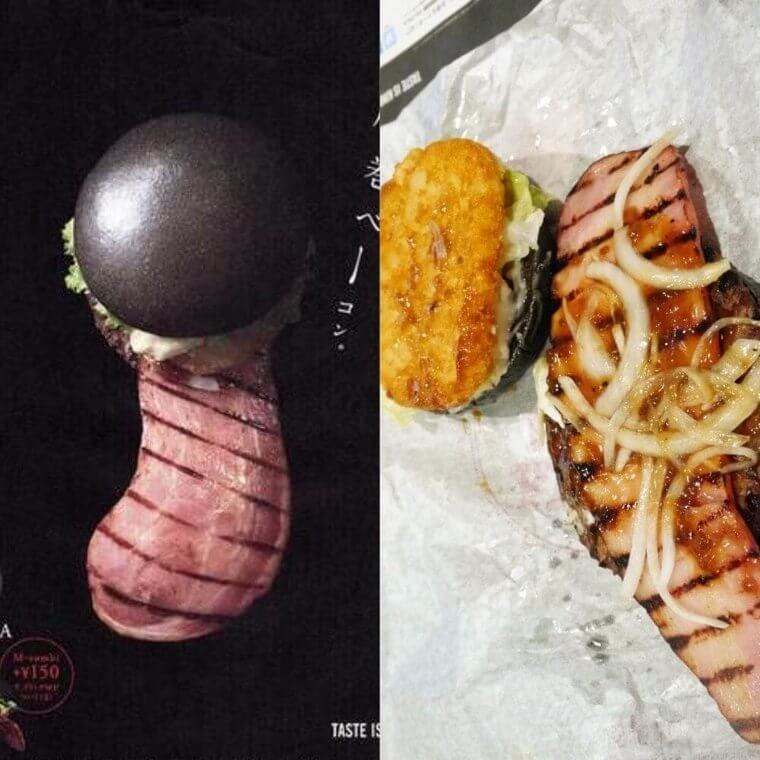 The first thing you notice about this Burger King creation is the black bun, but not far behind is the extra-long piece of floppy bacon that pokes out of the side. We have no idea how this is presented to customers but we'll sure stand in line.
Red Bean Bagel Ball – Dunkin' Donuts (South Korea)
Dunkin' Donuts in South Korea sure knows how to cater to its audience, with its Red Bean Bagel Ball a favorite among locals.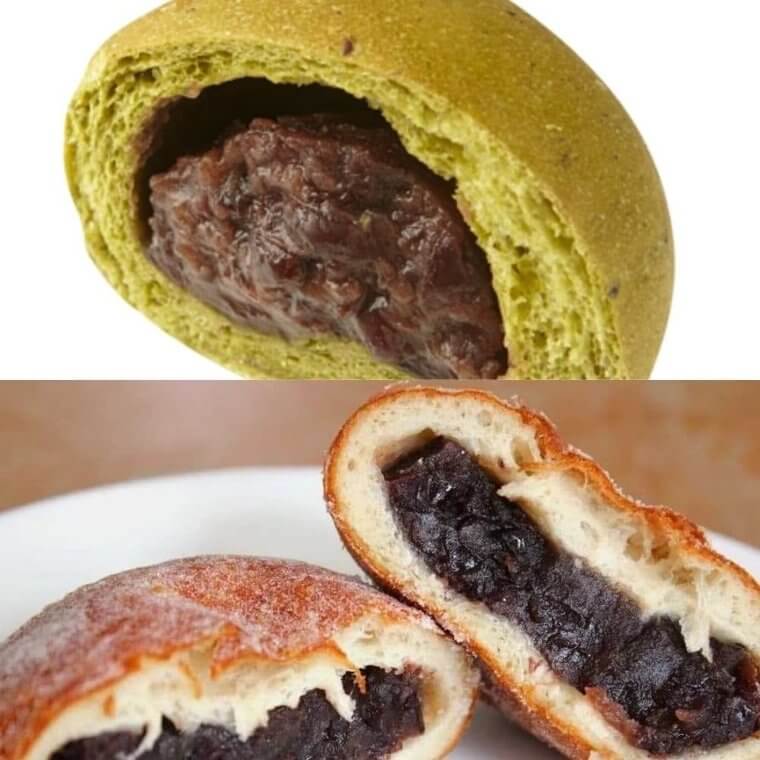 The Bagel Balls are such a hit, in fact, that they come in a variety of different fillings, such as kimchi, green tea, and even tomato paste. These should definitely be on your fast food to-do list if you're ever in Korea.
Fish Roe Cream Cheese Stuffed Pizza – Pizza Hut (Hong Kong)
This next item definitely sits in the 'curious tourist' category. It's not exactly a name that rolls off the tongue, but the Fish Roe Cream Cheese Stuffed Pizza is clearly a hit in Hong Hong.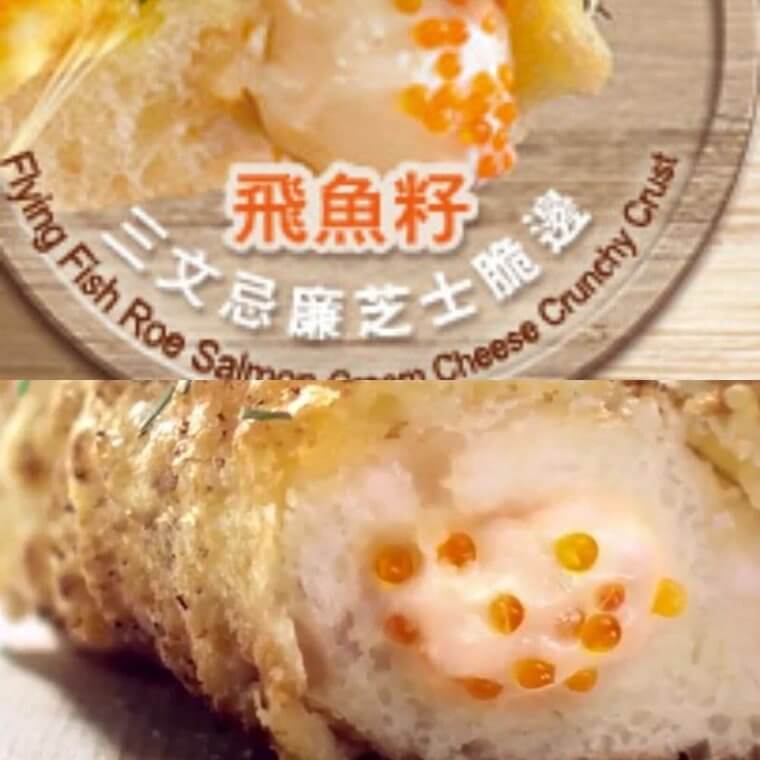 Pizza Hut's fishy favorite is topped with salmon and has a crust stuffed with cream cheese and fish roe. You'll probably either love it or hate it, but it's a great photo op either way.
Whopper 7 – Burger King (Japan)
A product launch collab between a tech company and a fast-food chain? This has Japan written all over it. To coincide with the launch of Microsoft Windows 7, Burger King released this beast of a Whopper and it caused quite a stir.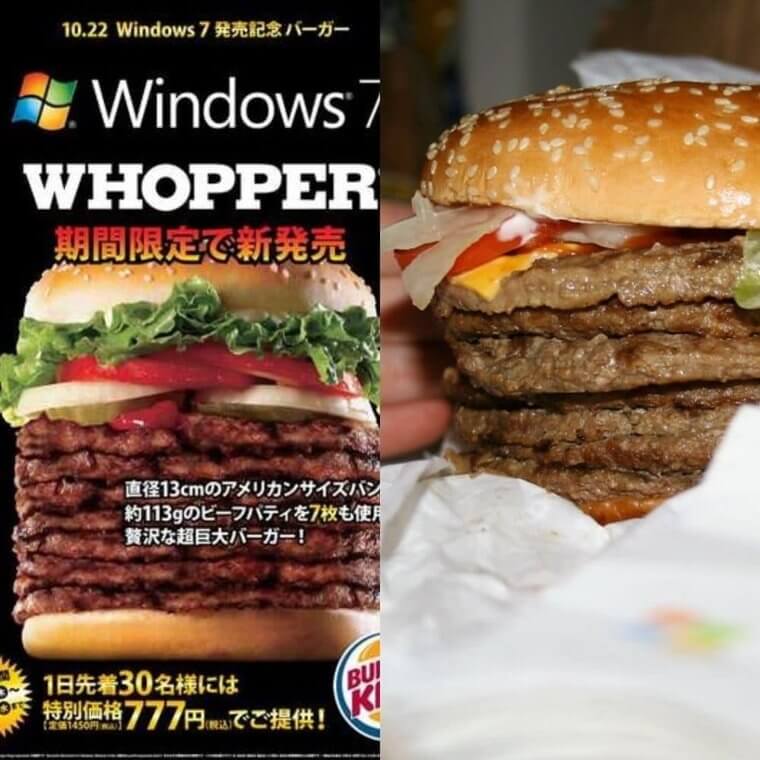 Not holding back in any way, the burger consisted of 7 — yes, 7 — patties, amounting to a total calorie count of over 1000. Sadly for tech-enthused diners, the Whopper 7 didn't stay on the menu for long. Our hearts will thank us later.
Jelly Frappuccino – Starbucks (Japan)
Jelly is a popular, convenient spread that is commonplace on toast for breakfast or mixed with peanut butter for a mid-afternoon snack. It's unlikely you'd heard of it as an ingredient in coffee, however, until now.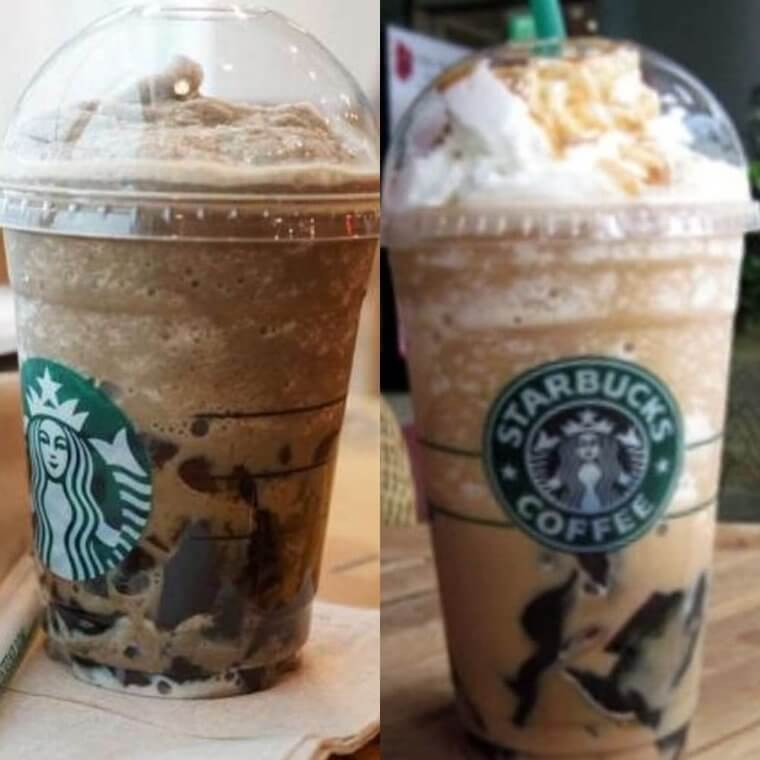 Starbucks in Japan offers their customers a Jelly Frappuccino, which sounds like an interesting concoction and is likely one of the sweetest drinks on the menu. Tempted? We are.
SufganiKing Burger – Burger King (Israel)
Sufganiyah is a jelly-filled donut that is traditionally eaten in Israel during the festival of Hanukkah, and it's the inspiration behind Burger King's SufganiKing.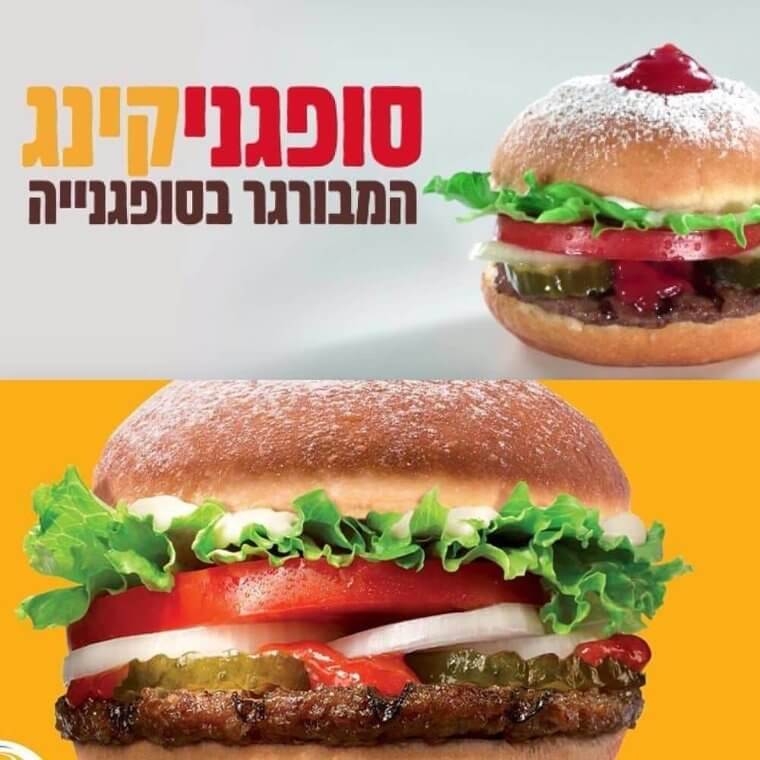 Essentially, the SufganiKing is a regular quarter-pounder but with the donut replacing the bun (and tomato ketchup instead of jelly). If you're one for a sweet and savory combo, this might just hit the spot and then some.
Buffalo Crunch Donut – Tim Horton's (Canada)
Another one to send your taste buds on a journey, the Buffalo Crunch Donut by Tim Horton's in Canada is not your average donut. In fact, it seems like an attempt to create an entirely new genre.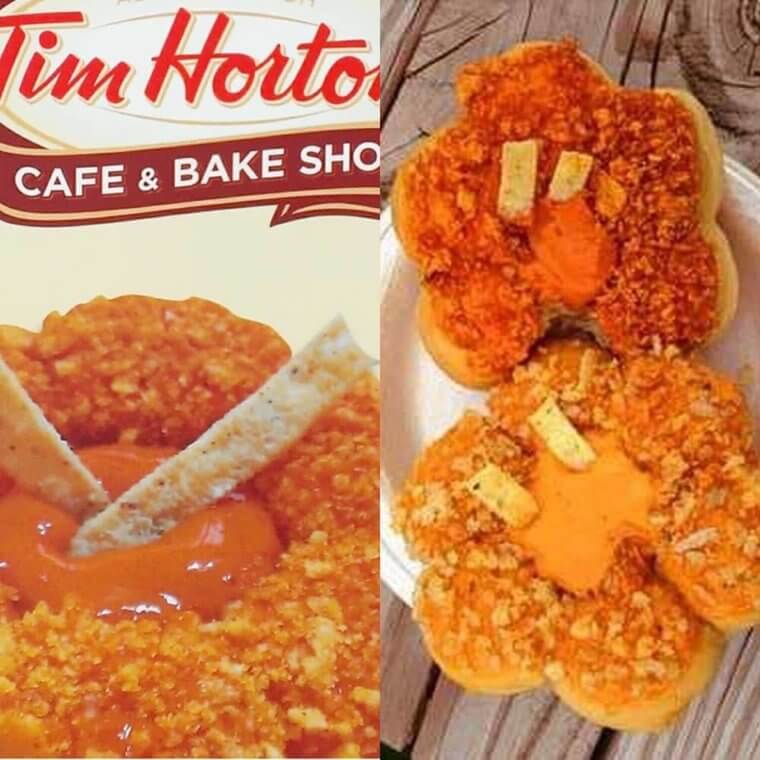 Where a typical accompaniment to a glazed donut might be salted caramel or chocolate, the Buffalo Crunch is filled with tangy Buffalo sauce. Truly wild.
Foie Gras Burger – Wendy's (Japan)
Let's be real, foie gras is probably the last thing that springs to mind when you imagine fast food and is typically the reserve of fine dining taster menus. Luckily for the diners at Wendy's in Japan, the dish has been democratized.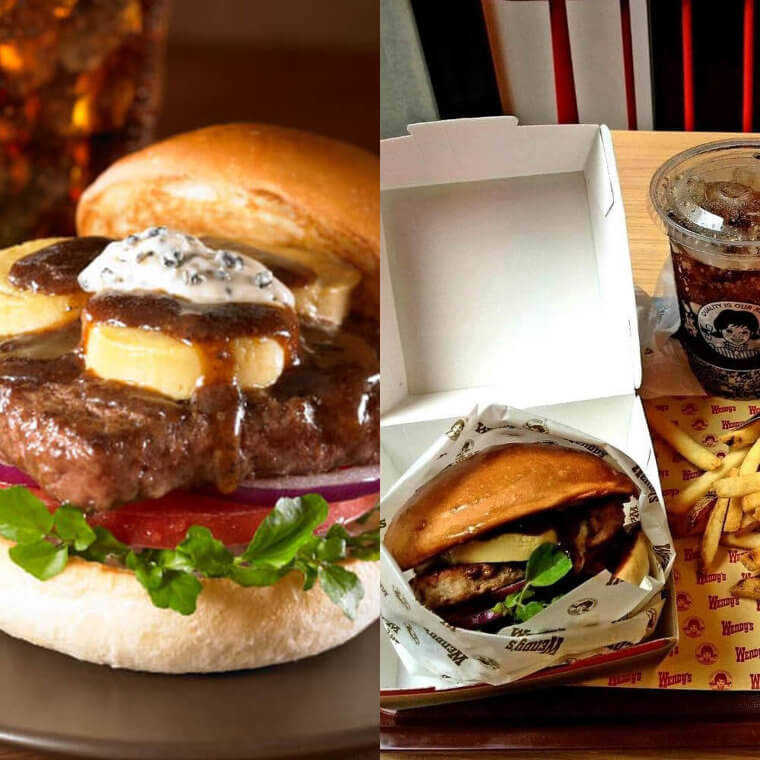 The Foie Gras Burger doesn't come cheap, of course, priced at an eye-watering $16. However, when you consider what you'd usually have to shell out for the fancy food product, we'd recommend taking a bite.
Berry Burgers – Burger King (Japan)
It would appear that the Japanese aren't afraid of a sweet and savory combo, at least that's what their fast food seems to suggest. Burger King in the Land of the Rising Sun offers burgers with a berry filling.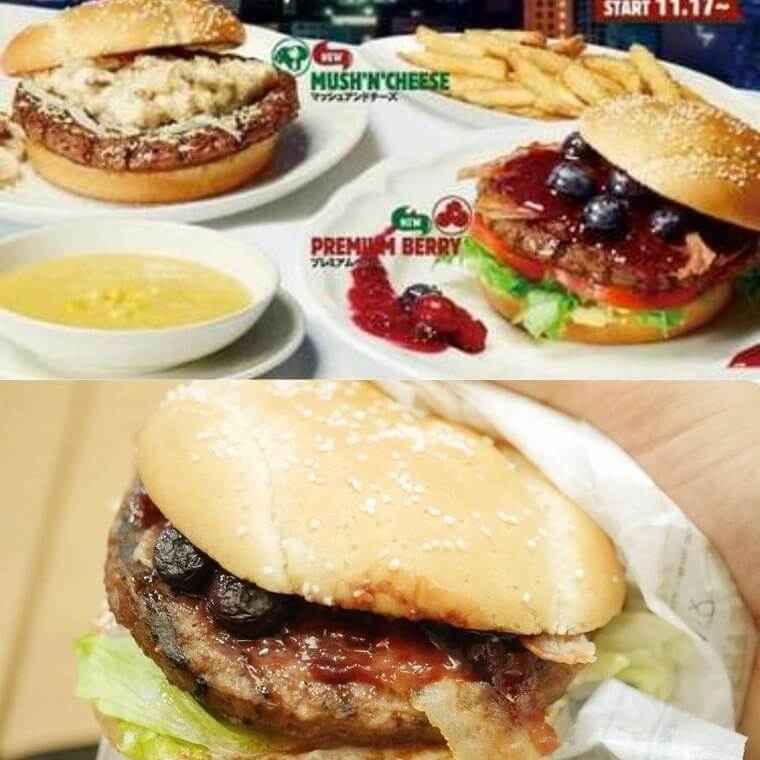 This might seem like a strange choice, but when you consider combinations like turkey and cranberry sauce, or pork and apple sauce, perhaps Japan is simply ahead of the culinary curve?
Surf & Turf Pizza (Plus Dessert) – Pizza Hut (South Korea)
This might just be the most ambitious — yet economical — item on this list. Pizza Hut in South Korea has your whole meal wrapped up in one with its Surf & Turf Pizza (Plus Dessert).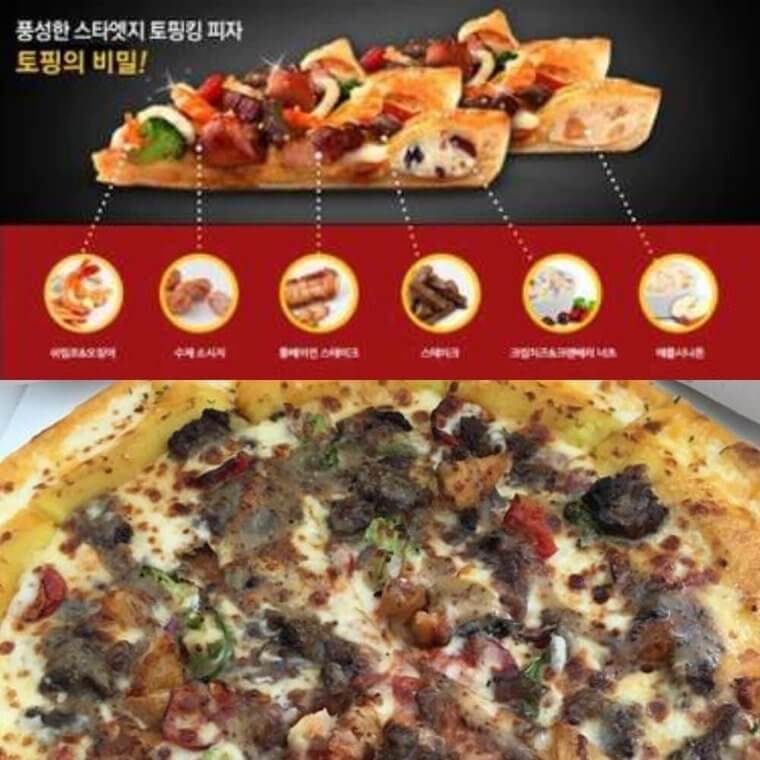 The pizza topping itself is a carnivore's dream, piled high with meat and seafood. The surprise comes at the crust, which is bizarrely filled with cream cheese and apple. This pizza sounds like a challenge, but one that we wish to face head-on.
Che-Zee Marmite Stuffed Crust Pizza – Pizza Hut (New Zealand)
Ah yes, Marmite. The yeast extract spread that is either loved or loathed so passionately, they built their marketing campaign around it. If you head to Australia or New Zealand, however, you're likely to find yourself in disagreement with most if you're not a fan.
For this reason, Pizza Hut in New Zealand dedicated an entire pizza to the stuff. Well, the crust at least. This one's a hard sell for anyone who hates Marmite, so we'll just leave it at that.
Pork and Seaweed Donut – Dunkin' Donuts (China)
The only disconcerting thing about this fast food is that it's called a donut. Sure, we're not afraid to try quirky combinations every now and then, but pork and seaweed?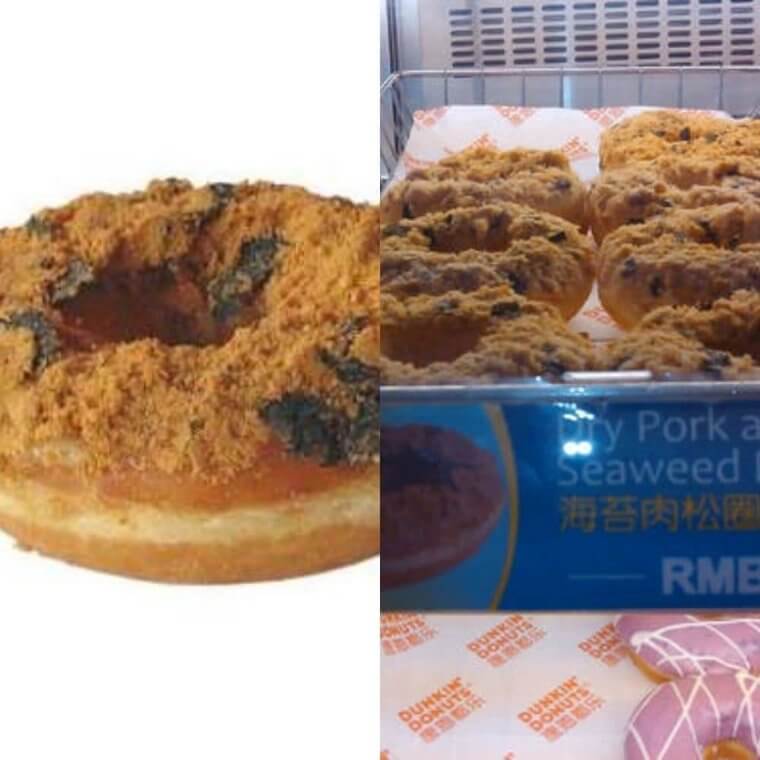 To be fair to the team at Dunkin' Donuts in China, the donut batter itself is made with yeast, which makes it far less sweet than your typical glazed ring. It's then topped with pork floss and seaweed. Any takers?
Peanut Sauce and Mayonnaise Crust Pizza – Domino's (Taiwan)
There are certain sauce toppings that you associate with pizza, such as tomato, cheese, and maybe garlic. Peanut and mayonnaise? Not so much.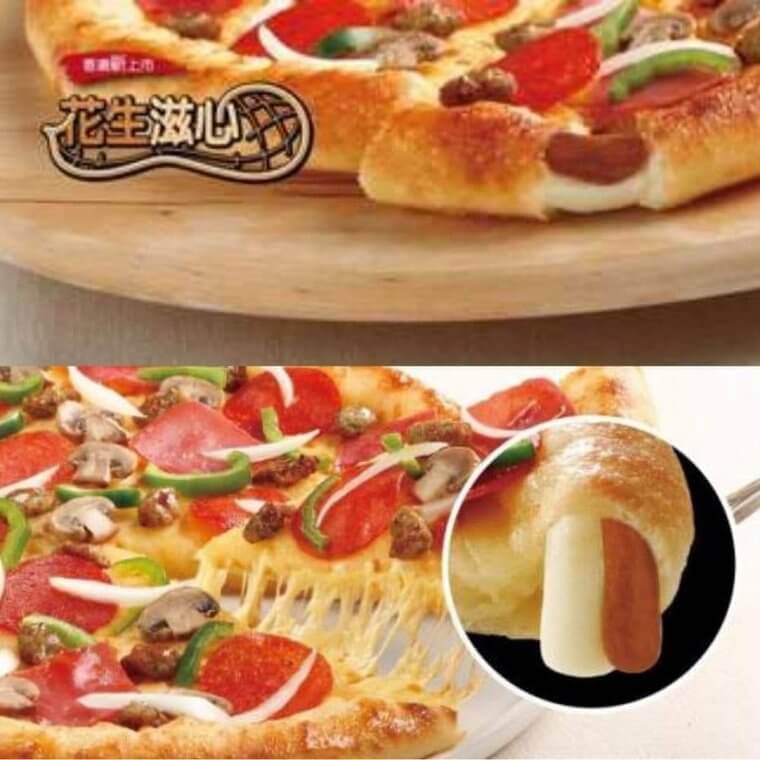 Try telling that to Domino's in Taiwan however, who offer a crazy blend of the two stuffed in their Peanut Sauce and Mayonnaise Crust Pizza. If you're all about new experiences then grab a slice.
Edible Nail Polish – KFC (Hong Kong)
The Hong Kong outpost of KFC perhaps took its 'Finger Lickin' Good' slogan a little too literally here, with what was surely the world's first Edible Nail Polish.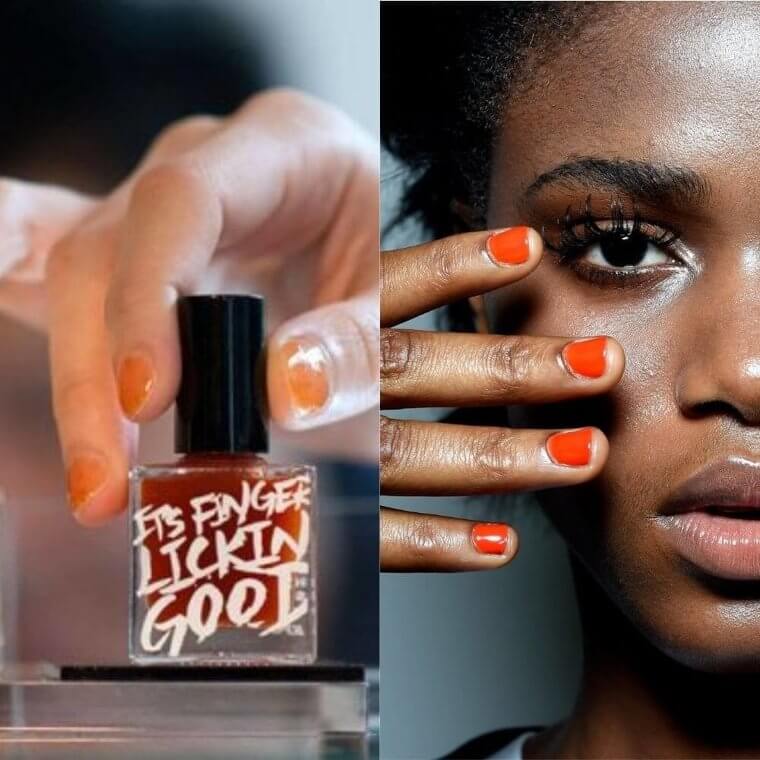 It's unclear whether diners were supposed to paint their nails with the edible polish before enjoying their delicious fried chicken, but that would certainly make sense. Perhaps unsurprisingly the product didn't last very long, so we'll never know how finger-lickin' good it really was.
Chicken Tikka Pizza – Pizza Hut (India)
A fun fact: Chicken Tikka Masala is technically the national dish of Great Britain. However, it's India you'll need to visit to taste this brave effort from Pizza Hut.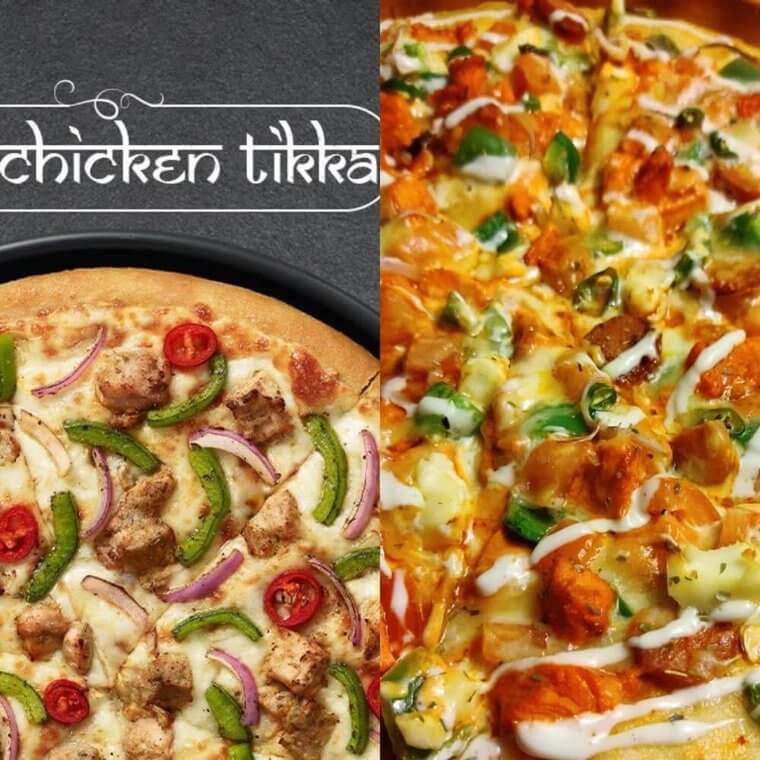 Chicken Tikka is typically served with rice and naan bread, so isn't obviously transferrable to a pizza base, mainly because of the cheese. That being said, if you love both pizza and curry (like us), then surely it's surely worth trying at least a slice.
Jingu Double Down Max – KFC (South Korea)
We are double down for anything with 'double down' in its name, so naturally, we're desperate to give the Jingu Double Down Max a try. KFC actually stopped running its Double Down menu in the US, but it still lives on in South Korea.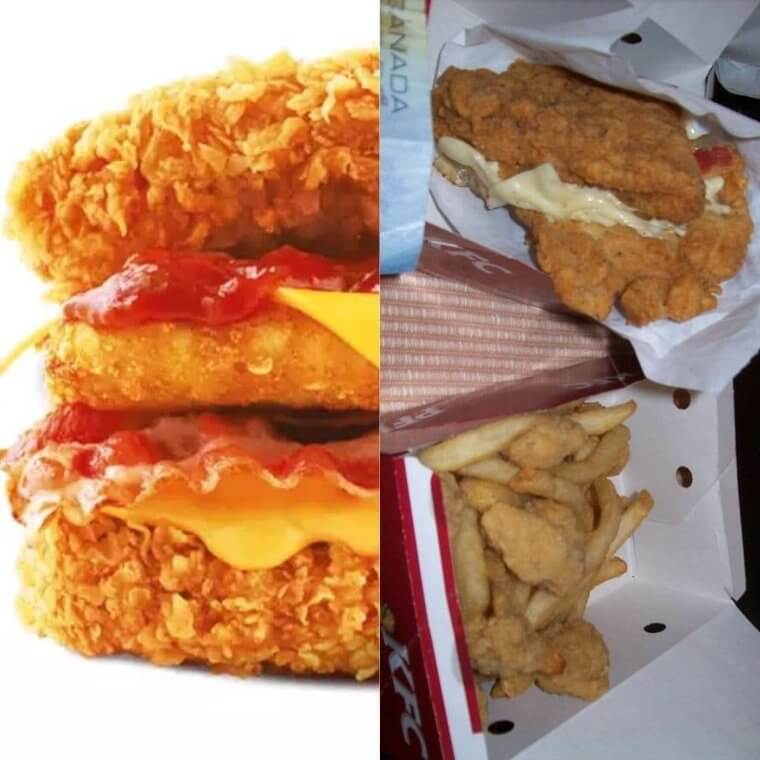 Essentially a bread-less version of the Zinger Tower burger, the Double Down Max is two pieces of fried chicken with hash brown, bacon and cheese wedged in between. This not only sounds delicious but also relatively carb-free. Two, please!
Chicken McDo W/ Spaghetti – McDonald's (Philippines)
We hope no Italians are reading this. If you are, you may wish to skip to the next item. McDonald's in the Philippines offers diners their Chicken McDo with a side of spaghetti. Yes, spaghetti.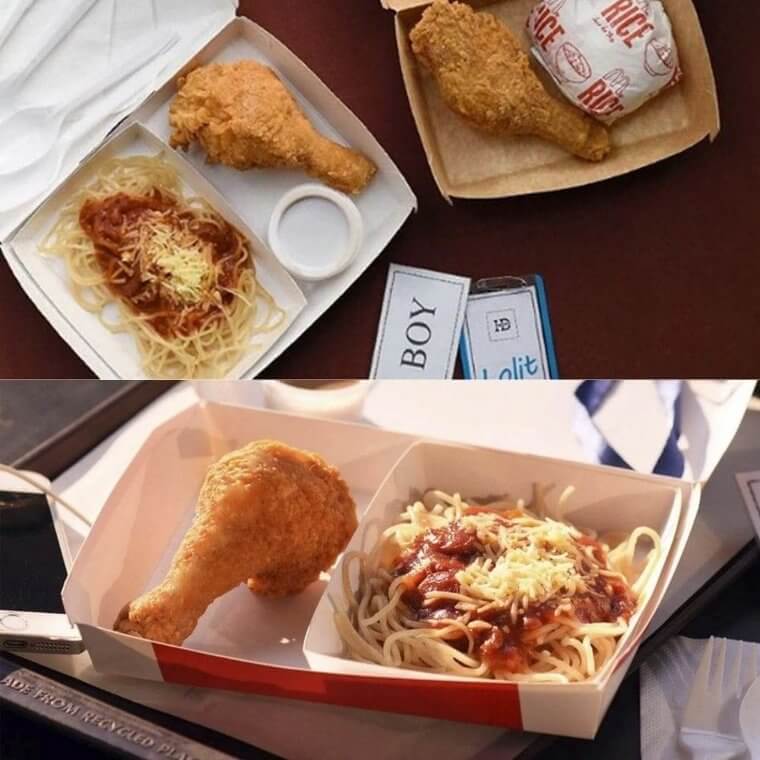 If you can't handle this combination but like the look of the McDo, then there is also a rice option. We've had chicken pasta before and it was great, so go on, let's take a walk on the wild side.
Burbur Ayam McD – McDonald's (Malaysia)
We'd have to check with the locals to understand how authentic the Burbur Ayam McD is, but this item on the menu certainly looks like a decent attempt at a traditional dish.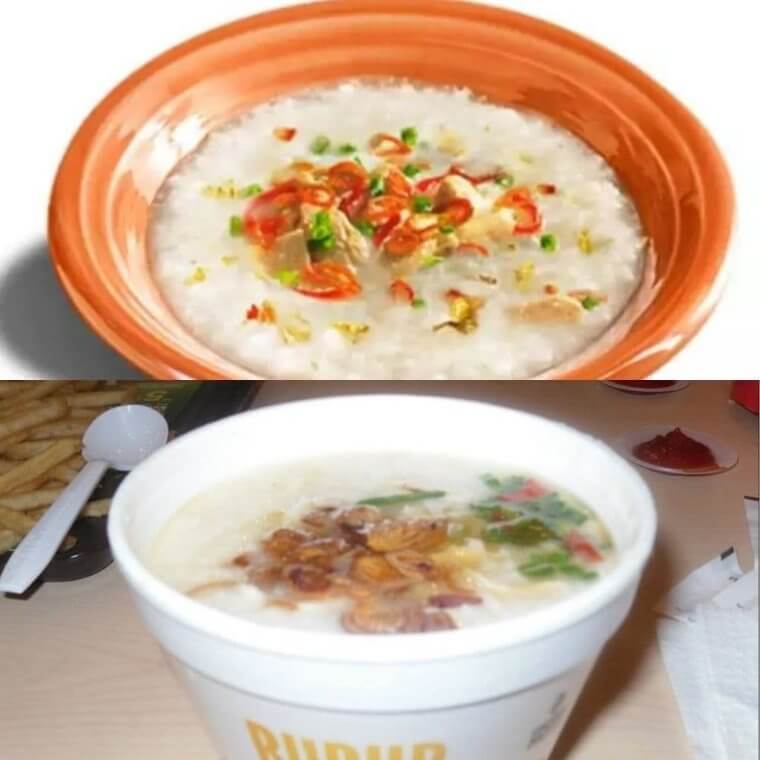 The meal itself isn't your typical Mickey D's fare and is essentially porridge topped with chicken strips and vegetables. Is it a breakfast, is it a lunch, or even a dinner? Guess you'll have to visit Malaysia to find out.
Chizza – KFC (Singapore)
The clue is in the title with this next item on the menu. KFC Singapore's Chizza takes the form of a Hawaiian pizza — complete with ham and pineapple — but a large slab of fried chicken replaces what would usually be the pizza dough base.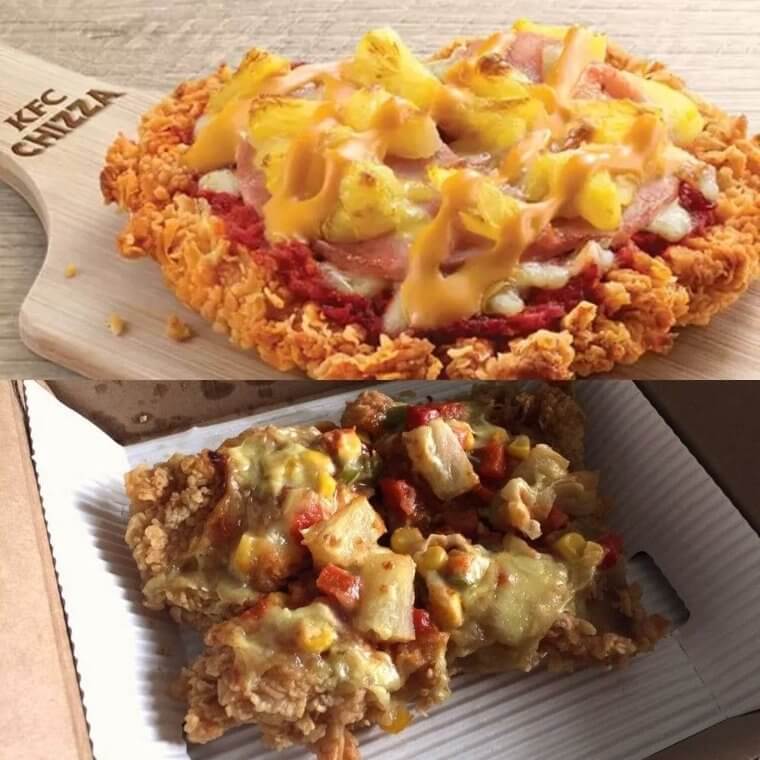 We love the concept of this, but is there anything about it that even resembles a pizza? It looks like fried chicken with a cheesy topping to us. Which, to be fair, sounds delicious.
Crispy Shrimp Burger – McDonald's (Greece)
There are many reasons to visit Greece. The beautiful beaches, the ancient architecture and the wonderful food. So, in keeping with that tradition, the local McDonald's presents its Crispy Shrimp Burger.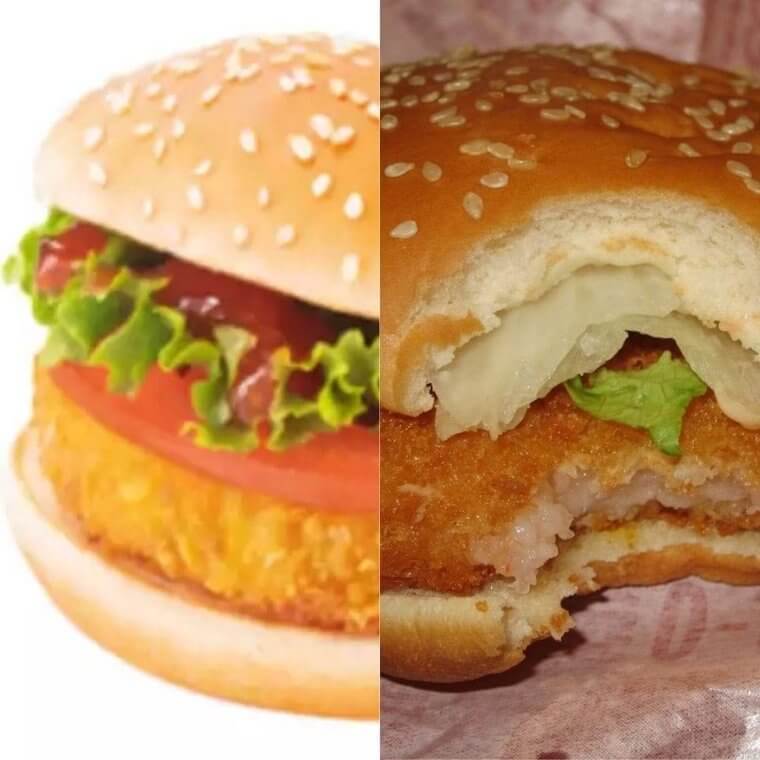 The likelihood is that this won't be quite as memorable as catch of the day from a local taverna, but still. We see it as an elevated version of the Fillet-O-Fish, which is actually pretty tasty.
Cheeseburger Stuffed Crust Pizza – Pizza Hut (Japan)
Well if we're talking presentation then the Cheeseburger Stuffed Crust Pizza scores high. Pizza Hut in Japan has managed to combine arguably the two most popular fast foods — burgers and pizza — into one, making it look regal along the way.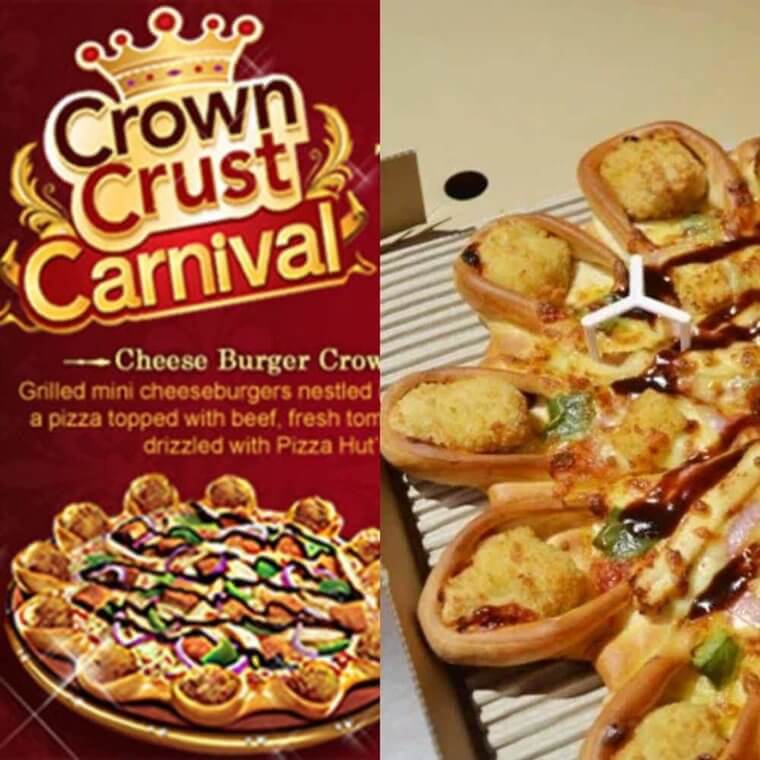 The crust is designed like a crown, the jewels of which are mini cheeseburgers. While we're not entirely sure a burger is what you need straight after devouring a slice of pizza, we'd certainly be up for sharing this one with friends.
Spam and Oreo Burger – McDonald's (China)
If you thought that Marmite in pizza was controversial, wait until you see this. The Spam and Oreo Burger might be one of the wildest combinations ever seen in a fast-food restaurant, but since its release in 2020 has been a major hit for McDonald's in China.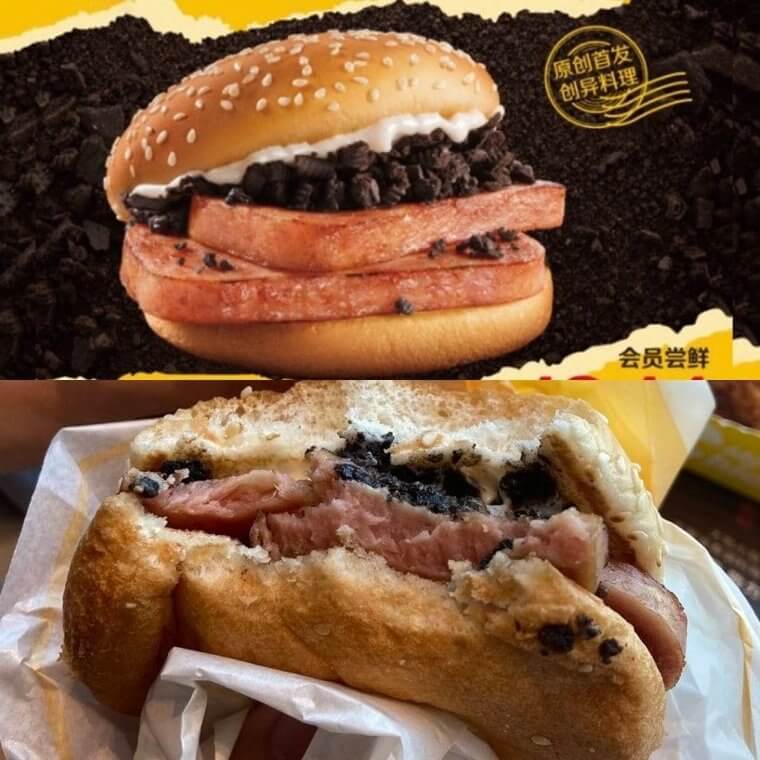 Only the hardcore sweet and savory combo lovers are likely to give this unusual creation a go, but culinary immortality awaits, since it's unlikely there are many people who can claim to have eaten meat with a chocolate biscuit before.
Birizza – Pizza Hut (Sri Lanka)
Here's another example of a combo that tries to marry an authentic, local dish with a fast-food favorite. In this case, Pizza Hut in Sri Lanka presents the Birizza.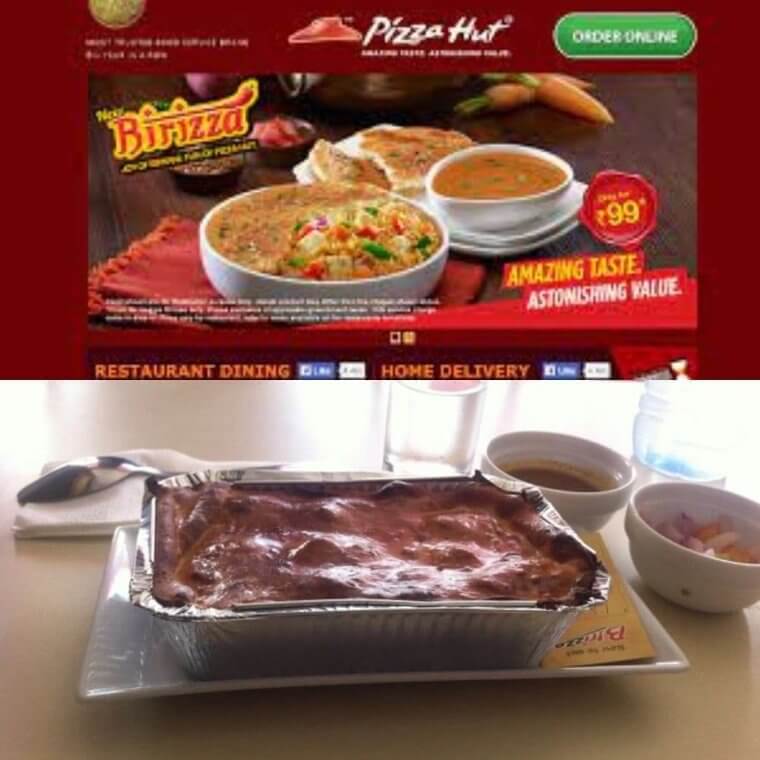 If we're being cynical, we'd say there's nothing about this creation that resembles a pizza. The cheese and the dough are replaced with chicken, rice, and a Biryani sauce, resulting in... Chicken Biryani. Would we try it? Well, we love chicken curry, so yes!
Pumpkin Spice Fries – McDonald's (Japan)
Halloween is a pretty big deal in a lot of countries, and Japan is no different. to get into the spirit of things, McDonald's offer their diners these delicious-looking Pumpkin Spice Fries.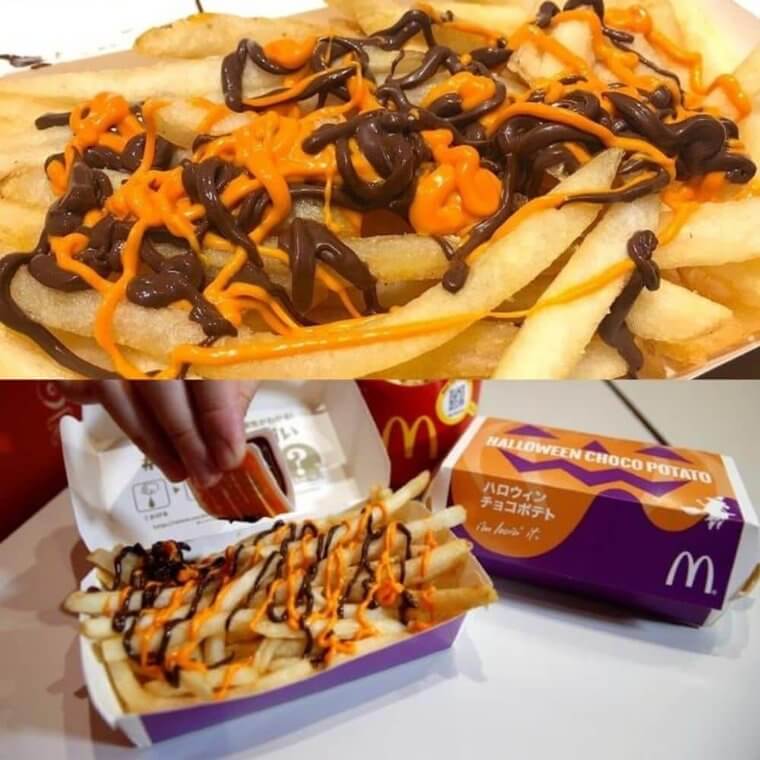 The fries themselves are the tried and tested Mickey D's classics, drizzled in two separate sauces - one orange, one brown, both pumpkin-flavored, of course. If you find yourself in Japan during the spooky season then be sure to give them a go!
PizzaMac – McDonald's (Germany)
This isn't the first time we've seen a fast-food hybrid attempt, and it's unlikely to be the last, either. McDonald's customers in Germany can kill two birds with one stone (metaphorically speaking, of course) thanks to the PizzaMac.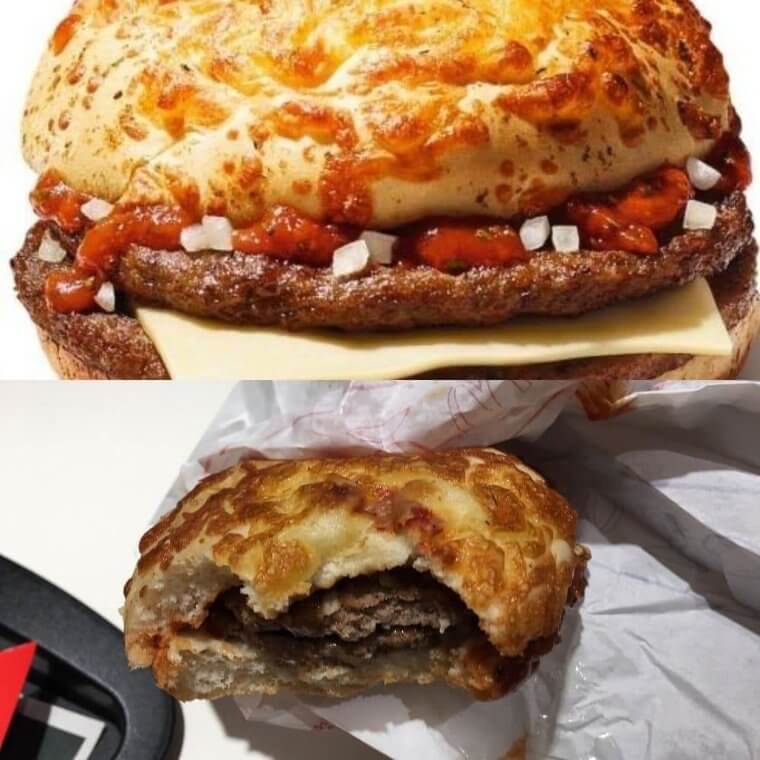 The standard burger bun is replaced by a cheesier equivalent and the burger itself is topped with marinara sauce, alongside sliced American cheese and onions etc. We're sold.
McCurry Pan – McDonald's (India)
McDonald's' McCurry Pan is an extremely popular item on the menu in India. Super convenient, it's a creamy curry — meat and vegetarian options both available — served in a rectangular bread tray, with an accompanying side of fries.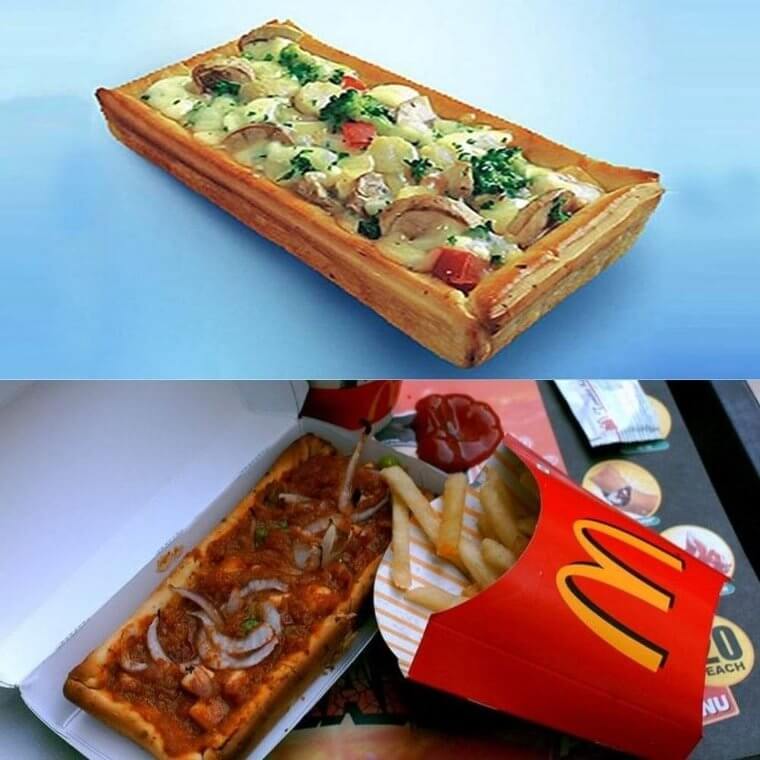 If you like your fast food neat and tidy then this is the one for you. We're also intrigued about the dipping possibilities of the fries and curry sauce. Feeling hungry yet?
Crab Croquette Burger – McDonald's (Japan)
If McDonald's isn't the first place that springs to mind when you're considering crab, then where have you been living? Well, probably anywhere other than Japan, where the Crab Croquette Burger is a fixture on the menu.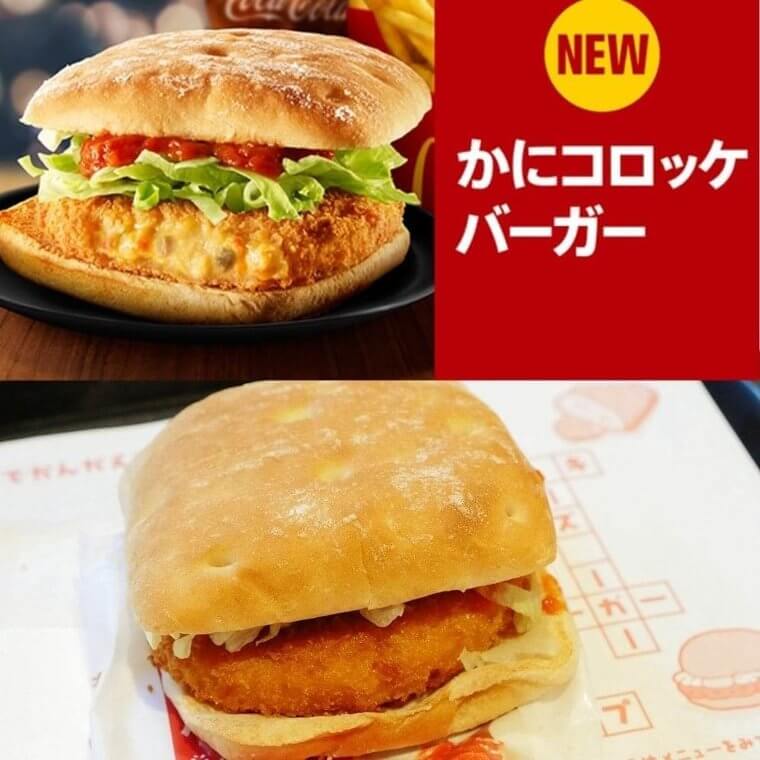 While it might seem an unusual option at first, McDonald's crab effort actually looks pretty tempting. The burger is made with snow crab and mushrooms and served in a ciabatta bun with a side of fries.
Doritos Crunchy Crust Pizza – Pizza Hut (Australia)
If you're too impatient to precede your pizza with snacks, but still secretly want them, then Pizza Hut's Doritos Crunchy Crust Pizza could be the perfect option for you.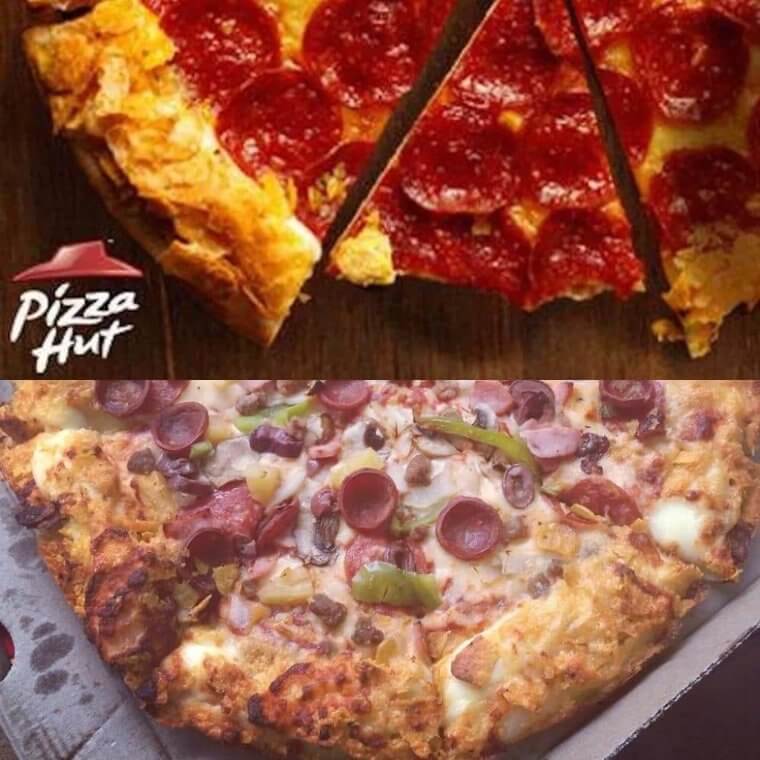 An extremely popular option in Australia, the pizza hybrid is laden with Doritos and extra cheese. Let's be honest, there's nothing to not like about this so we'll definitely tuck in when we're next Down Under.